Reviews
Traveling Teacup: Williamsburg, VA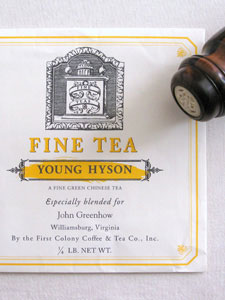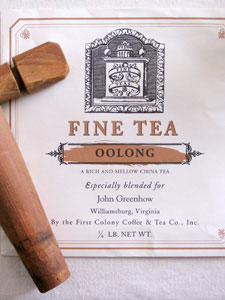 Richard Charlton's Coffeehouse, Williamsburg, VA

Historic tea. Sounds like a polite way to describe old tea, but the Richard Charlton Coffeehouse of Colonial Williamsburg, Virginia, offers a glimpse into what drinking tea meant in the colonies of America.

First off, avoid getting put off by the name. A coffeehouse of the time served a chocolate drink, tea, and of course, coffee. Forget the pub or ale house, the coffeehouse was the place for gentlemen to go and discuss ideas (especially political ones), get the latest news, and make deals. A wig maker by trade, Richard Charleton new how gossip could spread when men sit down together. A coffeehouse was an extension of that sitting and gossiping.

In the recently restored Charlton's, you'll find bright new wallpaper. Such decor carried greater expense, and cannot be found in every building of the period. Actors portray the kind of folk who would frequent a coffeehouse, telling you of the daily activities and usual goings-on of its staff and clientele. After touring the rooms, visitors are invited downstairs into the basement kitchen. Coffee and hot chocolate (alas, no tea) is served as you exit the building.

The chocolate drink differs from your average hot chocolate. Chocolate of the time was a more like a dark chocolate with its more bitter taste. To the chocolate, other spices were added. I thought I detected cinnamon and nutmeg.

If you want an authentic feeling tea in Williamsburg, walk West along Duke of Glouster street and pick up some Oolong and Young Hyson in John Greenhow's Store. These teas are similar to what the Colonists would have drunk, and what was thrown into the York River by angry Virginia protesters about 1 year after the Boston Tea Party.

All said, the Coffeehouse is pregnant with tea history to tell, and I hope the tour is revised to recount that exciting story. Until then, savor your Greenhow tea and your Charlton experience in a comfortable chair on your return home.

Information on shopping in Williamsburg, including the Greenhow store: Colonial Willamsburg

Jason Walker operates Walker Tea Review, a video blog where you can find tea tastings and tea reviews of teas from retailers that include Adagio Teas. In his videos, Jason brings his experience of living in China and managing corporate education to bear in helping tea drinkers select and enjoy their tea experiences."