Enjoyment
Monthly Musings February 2010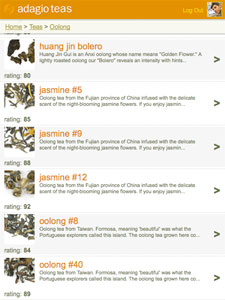 Hi Tea Lovers!
February is once again upon us, the shortest month of the year. Last month we published a story written by Tiffany Picard about how to incorporate tea into most popular resolutions we all make for the New Year. And usually, around this time, our patience and dedication to our resolutions have tendencies to wane. If one of your New Year's resolutions was to do a healthy thing each day, incorporate this as well as a discovery of new tea. This is the perfect exercise for both the newbie and the veteran- try a new tea every day! It'll make this shorter month, go by even quicker, and perhaps it will spawn into an activity that you can continue for the rest of the year. Be sure to keep a daily log of your tasting notes. A great idea is to revisit later this year, to see if any of your tastes or notes on a particular tea has changed.
We have also launched our mobile site, so for our tea lovers who are on the go with their iPhones, you'll be able to order and navigate a much friendlier version of our website on your Safari web browser. Just log-in, and you'll be able to view our entire tea and tea ware selection and with a couple touches you're on your way to ordering tea pretty much anywhere (with a good 3G connection that is!)
We are also pleased to feature another tea farmer for February, Masudo Yoshio
And always, since Valentine's Day is lurking it's big pink, red, glittery, lace-trimmed head around the corner, you can always bet on finding the perfect gift on our site for the one you love, whether it be your significant other, Mom, Dad, sis, bro, neighbor, or whoever. Feel free to ask for my personal suggestions on Live Support 10am-5pm EST or you can go to our handy-dandy gift set page here for effortless shopping. Remember, gift wrap is always free on our gift sets.
And, if you're looking for something super easy, check our our popular Valentines tea- a mix of chocolate and strawberries and bright Ceylon black tea. Enjoy it plain or with a little sweetener with your sweetie, and it'll fly an arrow right into the intended's heart. Happy Valentine's Day!
Yours in tea,
Christine