Travel
Quirky Afternoon Teas of London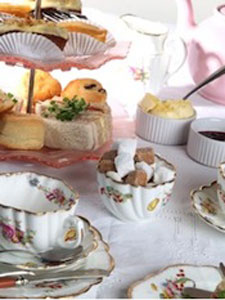 Although originating some 200 years ago, the British custom of afternoon tea is still as alive as ever. Across the UK, afternoon tea can be had in countless hotels and tearooms, often paired with sandwiches, scones and cakes, served on a tiered cake stand. Of all cities, London stands tallest with its wide selection of afternoon tea options, tailored to suit any budget. In London, you may even experience an afternoon tea with a twist. From tea "on a diet" to an Alice in Wonderland-themed tea, we'll take a look at five of our favorite quirky options in the city.
Tea on a diet: Tea-Tox
Brown's Hotel, Albemarle Street, Mayfair London W1S 4BP
If you thought afternoon tea and dieting were mutually exclusive- think again. Brown's Hotel succeeds in making their afternoon tea waistline-friendly and delicious on their journey to earn one of HotelClub's Awards for Outstanding Afternoon Tea. Low-fat, low-carb, and sugar free never tasted so good! You can't afford to miss their sugar-free chocolate cup with yogurt and berries or one of their open sandwiches, served on healthier spelt and rye breads. As for the tea? They offer ten varieties of black tea and seven herbal blends to satisfy even the pickiest of taste buds.
Tea with a view: Paramount
Centre Point, 101-103 New Oxford Street, London WC1A 1DD
How about escaping the hustle and bustle of Soho and having the highest tea in London? Located on the 32nd floor of Centre Point Tower, Paramount serves sweet and savory delights on a slate cake tier, creating the perfect balance between modern and traditional teatime. The menu includes smoked salmon on pumpernickel and poached chicken on multi-grain sandwiches, accompanied by enough blends of tea to satisfy the connoisseur without overwhelming the newbie. The breathtaking 360-degree views and affordable prices make it one of the best afternoon teas in town.
Surreal tea: Mad Hatter's
Sanderson Hotel, 50 Berners Street London, W1T 3NG
Combining the great British tradition of afternoon tea with the great British eccentricity of Lewis Carroll, Sanderson Hotel offers a truly unique experience inspired by the adventures of Alice in Wonderland. No costume changes necessary, the spirit of Alice is captured in the crockery and table decorations- sugar bowls made from music boxes, napkin holders scribed with riddles and menus hidden inside vintage books. The food brings the surreal atmosphere full-circle: 'Drink Me' potions containing layers of passion fruit, coconut panna cotta and exotic foam (changing flavor with each sip) with miniature 'Eat Me' strawberry and cream mousses. Tea-wise, various blends are presented at the table in tiny glass caddies so guests can sample and pick their favorites.
Quaint tea: The Tea Rooms
155 Stoke Newington Church Street, London, N16 0UH
Setting foot in The Tea Rooms, you would think you stepped back in time to a Women's Institute meeting in a quaint 1950s English village. Served in vintage china with silver spoons, the tea list encompasses loose-leaf teas from India, China and herbal blends. The home-baked miniature cakes and pastries, made from free-range and locally-sourced ingredients, are to die for. Here, you'll receive more baked goods for your buck than any of its more prestigious, centrally located neighbors. The Tea Rooms truly succeed in keeping the ritual of tea drinking alive in modern times.
All the tea in China: Teanamu Chaya Teahouse
14A St Luke's Rd, London W11 1DP
Looking for something different? Drop by Teanamu Chaya to witness tea ceremonies popular in Asia performed in Notting Hill. With over 18 types of tea to choose from including oolong, pu erh and white varieties, each table is equipped with a small self-boiling kettle to keep your tiny traditional cups and teapots filled to the brim. Here, you will also find amazing preservative-free snacks, such as sticky tea-infused rice with mushrooms and azuki. Teanamu encourages its guests to leave their worries at the door and to focus on the present moment. It is indeed a secret and relaxed place in Central London.