Enjoyment
Feeling' GifTEA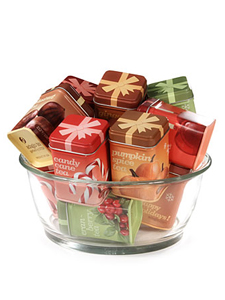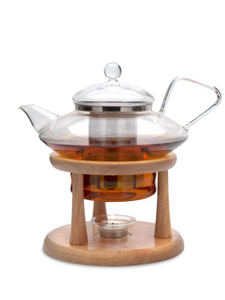 It's that time of year again! Time for holiday shopping. This is generally a fun thing to do, if you already know what to get everyone. If you're like 99.99% of the population, however, you could probably use some ideas. If you have a tea lover on your list and you know little about tea yourself, then you can definitely use some ideas.
I'll begin by suggesting the most obvious gift: tea. Now is an excellent time of year to treat the tea drinker in your life to a replenishment of their usual stock. Alternatively, you could introduce them to new flavors of their favorite type of tea or to an entirely new tea. One could share several new flavors of black tea, for instance, or introduce a green tea drinker to white tea. There are also fun gifts like tea blooms and cookies to delight giftees old and young. An especially nice bonus of tea is that it can be a practical and inexpensive item for acquaintances, such as a dinner hostess or assigned Secret Santa recipient. Instead of bringing a bottle of wine (like everyone else is going to do) to a holiday gathering, bring an assortment of tea for the host to enjoy or share with the other guests. Or wrap up a box of assorted teas for your company-mandated Yankee Swap and check that to-do off your list. Nearly all tea companies offer assortments or samplers that can make easy and affordable gifts for just about anyone.
But what if you want to go beyond tea? What if you gave tea last year and want a fresh idea for 2010? Read on, my friend! You're covered. There are many things that a tea drinker might like, appreciate, and use in addition to tea.
For starters, it's quite logical to pair a gift of tea with teaware or an accessory or two, and there are many options available. Teapots, teakettles, teacups or mugs, tea cozies, tea warmers, tea spoons, tea towels, tea timers . . . the list goes on and on. While these items themselves are admittedly not too original, that doesn't mean your selection can't be. For example, there are many types of teapots to consider: functional teapots, novelty teapots, decorative teapots, teapots for everyday use, fine China teapots for company only. The same can be said about drinkware. Teacups and mugs come in so many colors and patterns and with so many different sayings or quotes that you won't have to look all that long or hard to find one that would suit the tea drinker on your list. Have you seen the mugs that feature an inspirational word modified to include "tea", such as "cre-a-tiv-i-tea" or "sin-cer-i-tea"? Very cute. Those clever mugs are great for home, of course, but what about a tea-drinking commuter? There are about a zillion travel mugs from which you can choose, and they come in different materials (ie, ceramic, plastic, and metal) and in a seemingly infinite number of sizes. There are even tumblers that include infusers so one can brew loose tea on the go! If you go this route, don't forget to provide travelers with a way to carry their tea with them. Small air-tight tins or boxes that can fit into a purse or pocket are very helpful for carrying tea when on the move.
For the literarily inclined, there are many types of giftable books that fit the bill. Books about the history of tea or how to throw tea parties (conservatives optional), guides to tea, and cookbooks utilizing tea (both as food and drink), to name a few. There are also calendars. More calendars than you thought possible. Some feature collectible teapots, some feature Zen sayings and various tea paraphernalia, some feature inviting scenes you wish you could jump into to enjoy the tea they picture. There is even a tea-a-day calendar that has the date printed on a mystery teabag, which you rip off of a strip to enjoy the surprise tea-of-the-day (it could be black tea, it could be green, you don't know until you brew it). If you're creative, you could use an advent calendar to make your own (but it's probably best to use teabags for this one, as loose tea could get a bit messy). In addition to books and calendars, there are countless stationery items—like greeting cards, note cards, letter paper, and pads—featuring tea-inspired cartoons, artwork, or quotes.
For those who love to cuddle up with a piping hot cup of tea, there are many potential presents. How about a cozy blanket or robe, or maybe pajamas? The theme here is comfy relaxation; the gift needn't be actual tea or grandma-esque sweatshirts embroidered with teapots (unless, of course, you're a grandma and like that sort of thing). Tea-infused spa items are also popular and include facial masks, bath teas—gigantic tea bags for your bathtub!—lotions, and candles (I mean tea-scented candles, not the tea lights that you may have lining your mantle or bathtub surround).
Whew! With so many options (and the magic of the Internet), you're sure to find something original and creative to surprise the tea lover in your life.
If you have a gift idea to add, please do! We'll all need new ideas again next year.
Happy holidays!