Culture
June Horoscope For Tea Lovers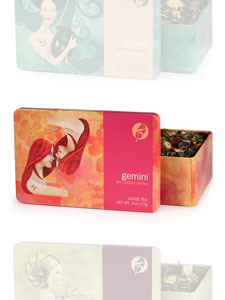 Join the chorus! Buzzing Gemini season has arrived, and the Sun visits this chatty sign until June 21. Have you noticed that everywhere you go seems a little noisier lately?
Quicksilver Gemini is ruled by Mercury, planet of communication, so during this time, everyone has an opinion, a witty comeback, or a zillion ideas brewing. It's a great time to stoke your intellectual curiosities, or even to write or teach about what you know. Are you the type that's a little slow to warm up, even shy in social situations? The white tea, peach and apricot in Adagio's Gemini Tea spark your playful side, helping you break into a conversation you're dying to join.
Caution: because Gemini is the sign of multiplicity (symbolized by the Twins), you're at risk of being pulled in TOO many directions this month. If you tend to have a million irons in the fire but need to focus, you'd benefit from Adagio's Virgo tea. The soothing chamomile, honeybush and lemongrass will calm the anxiety that can kick in under Gemini's spell, helping you feel less scattered.
If you're a FIRE sign (Aries, Leo or Sagittarius):
You normally like to do it all yourself, but your independent sign will thrive this month through teamwork. Link up with synergistic people whose skills complement yours. Delegate. Collaborate. Divide and conquer. To enhance your outgoing and innovative ways, brew any of Adagio's air elements teas, which boost your creativity.
If you're an EARTH sign (Taurus, Virgo or Capricorn):
Gemini time is all about business, just the way you like it. You're focused on practical and financial matters, making moves toward a concrete goal. To ensure that you don't burn out, add any of Adagio's earth elements set into your day. Even the busiest people need a few minutes to slow down and reconnect and the soothing properties help you do that.
If you're an AIR sign (Gemini, Libra or Aquarius):
Get moving! It's time to stop procrastinating, dreaming and talking. The squeaky wheel gets the oil now, and your charms will be irresistible. Put your plans into action, take a bold risk and aim high. Adagio's fire elements teas will help light the spark and keep your inspiration fueled.
If you're a WATER sign (Cancer, Scorpio or Pisces):
Break out the tissues! Gemini season is a nostalgic one for you, a time when your feelings can be strong and unpredictable. (Yes, even more than usual!) To keep yourself from drowning in the emotion ocean, try one of the stabilizing teas from Adagio's water elements teas. The calming properties will be just what these sentimental stars orders.
Read a complete Monthly Horoscope for your sign and much more at .