Enjoyment
Get Green this St. Patrick's Day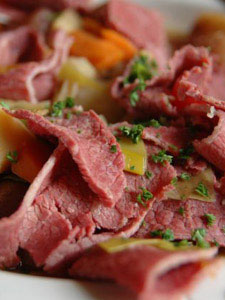 In the month of March, many English-speaking countries celebrate St. Patrick's Day. While St. Patrick's Day is a nationally celebrated holiday in Ireland, it's become an unofficial holiday to celebrate throughout the world, especially in areas where there are large Irish populations. Just like many other holidays, St. Patrick's Day is a display of favorite Irish dishes and traditions.
A favorite drink of the Irish is of course, tea. Ireland is the highest per capita country when it comes to tea consumption (Guinness falls second to tea!). They enjoy their tea brisk and bold, mostly black teas (hence the popular variety of Irish Breakfast, a mix of Ceylon and Assam black teas). Ireland was introduced to the tealeaf in the early 1800s, and it quickly spread to be consumed by all populations. Like English custom, the Irish also make time for tea, enjoying afternoon and high tea complete with appropriate foods, like biscuits, shortbreads, and cakes. The Irish too, enjoy their brisk teas to hold up to milk and sugar.
On St. Patrick's Day you might get pinched if you're not wearing green, so can you get away with enjoying some green? Why not! Though it's not the expected cuppa for the Irish, "going green" is an interesting twist today St. Patrick's Day festivities.
It's easy to add some green teas to your menu on St. Patrick's Day. If you're making the traditional corned beef and hash, a smoky tea like Gunpowder, or a nutty tea like Genmai Cha will stand up to the deep, rich, meaty flavor of the beef. Try pairing a sweeter green tea like a Sencha with a hearty Irish beef stew. A green tea like Dragonwell, Green Anji, and Pi Lo Chun are great with some Irish soda bread, shortbread, or cream biscuits or scones.
If you prefer to imbibe, try mixing green teas with Irish whiskey. In China, where green tea is king, it is green tea is often mixed with spirits to create cocktails. Try Green Pekoe brewed at 3 minutes, and mix with Jameson, pour over the rocks. Try variations with flavored green teas like Vanilla Green and Mango Green, with a splash of flavored liquor.
And, while we're on the subject of green teas- aren't you lucky? Adagio Teas is offering 10% off all green teas until St. Patrick's Day. Stock up now for your celebrations, or post-celebrations- prepare a green tea bag in our paper filters, flatten out, and let cool and place over eye lids if you're experiencing puffy eyes. And be sure to drink lots of the health benefit-packed drink the day after, if you feel like you celebrated enough. Enjoy, and the Gaelic say, Cuppan Tae!