Enjoyment
Autumn Crazy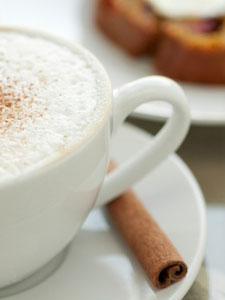 Each fall, not only do Christmas decorations seem to appear around Labor Day, so do a plethora of fantastic pumpkin coffee drinks and, I admit, I really enjoy them. What I don't enjoy, however, is knowing that they're full of sugar, artificial ingredients and, most of all, hundreds of calories.
Fortunately, there are many pumpkin-infused teas that are delicious, healthful and low in calories, and they're available right here at Adagio!
Enjoyed straight up or with a pinch of raw sugar, splash of almond milk and extra sprinkle of cinnamon, these beverages will give you the satisfaction of a warm piece of apple or pumpkin pie without the guilt. And vegans rejoice! All of Adagio's teas (those with chocolate chips excluded) are vegan-friendly.
For those who cannot resist the richness of commercially-made pumpkin drinks, grab a few cans of condensed or evaporated milk and add a bit to your spice tea. The result is pure, creamy goodness!
Chai
Spiced Apple Chai, Masala Chai, White Chai
In India, "chai" means tea whether it's a plain Darjeeling or their famous masala spice tea. However, in the United States, the word chai has come to mean a variety of teas and herbals blended with spices. And boy, isn't fall the season of chai! The spices are so wonderful, they make your taste buds tingle and bring your body temperature way up as the fall weather temperatures go way down. We love chais of all kinds and are excited to share ours with you!

Adagio's White Chai was released this year, just in time for fall 2013. This blend of white tea, chai spices, lemongrass, coconut, fruit pieces and peppercorn yields a light bodied zesty cup. Its release marks the seventh chai to be added to the Adagio arsenal. With sample pouches available for $2, you can sample all of our chai teas for only $14! They're sure to warm you up and please your taste buds.
Flavored Black
Caramel, Hazelnut, Pu Erh Hazelberry, Vanilla, Pumpkin Spice
Apple, caramel, cinnamon, hazelnut, vanilla, and, of course, pumpkin are flavors that make me think of apple picking, cider doughnuts, pumpkin carving and Halloween. One way to get the pure taste of fall is to blend Adagio's caramel black tea with fresh apple pieces. This blend will give you the taste of caramel apples without the sticky fingers and risk of cavities.

Another way to get the best of autumn from our black teas is to do your own tea blending. It's easy. All you'll need are a few glass containers, your favorite teas and some fresh flavorings. My favorites are Assam Melody or Ceylon Sonata blended with fresh orange and chocolate chips or apple pieces with crumbled cinnamon sticks. Here's how to do it: in a small bowl, mix together your choices of teas and flavorings. Stir until evenly distributed. To brew, measure out 1 teaspoon per cup and pour on boiling water. Steep for 4 minutes. Sieve out the flavorings and add sweetener, if desired.

You may also find a few helpful recipes here.
Rooibos & Honeybush
Rooibos Cinnamon Apple, Honeybush Vanilla, Rooibos Vanilla Chai
This is a no caffeine zone! Not everyone can enjoy a hot cup of real tea from the Camellia sinensis plant. Rooibos and honeybush are teas perfect for those who are sensitive to caffeine or simply looking for a great autumn beverage just before bedtime. The absence of caffeine also makes these teas great for children.

Rooibos and honeybush have zero caffeine, yet they are packed with antioxidants that fight disease and make a refreshing Halloween drink for both children and adults. Replace a jug of processed juice with a carafe of fresh Rooibos Cinnamon Apple herbal tea to reinforce healthful living in your home. After a long night of trick-or-treating, even picky eaters love our caffeine-free teas like Rooibos Cinnamon Apple.
As the temperatures dip, we wish you the pleasure of a good book or great company, a nice warm fire and one of Adagio's irresistibly delicious fall-inspired teas. Enjoy!