Drinks & Eats
Beginner's Guide to Cooking with Honey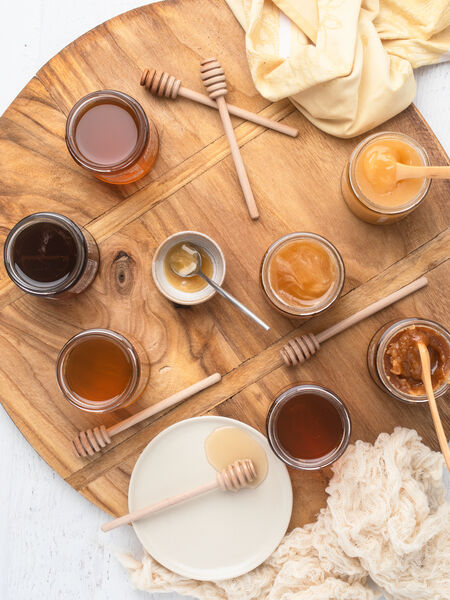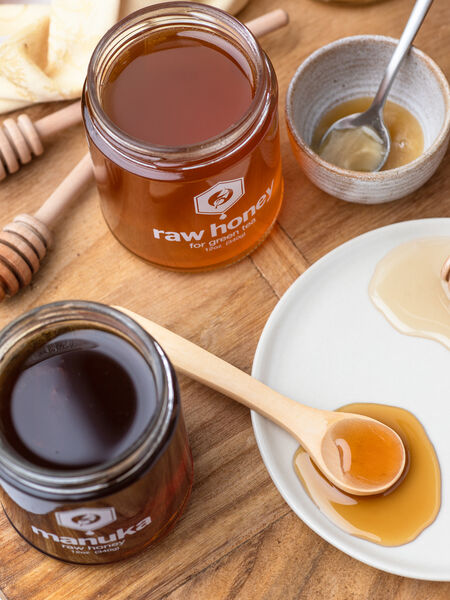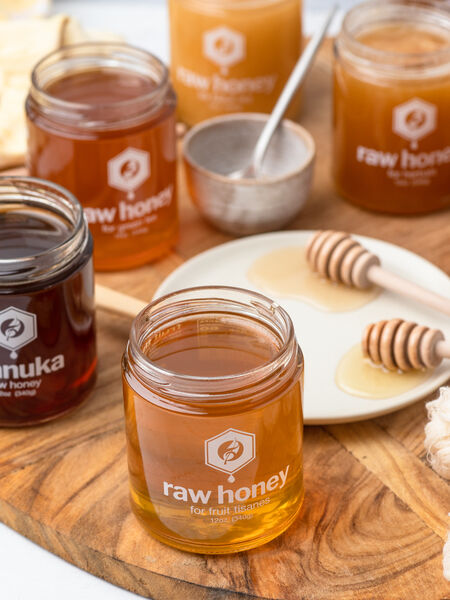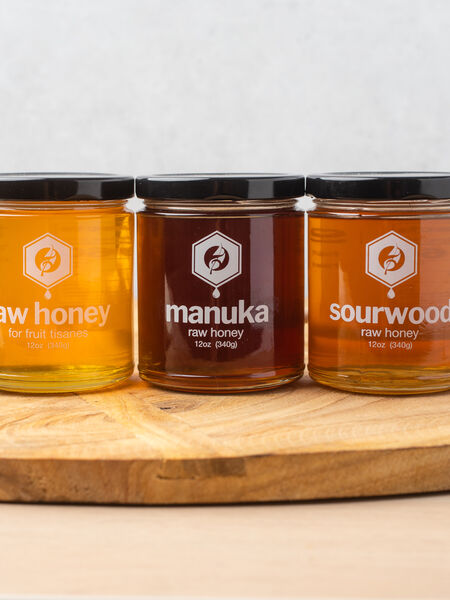 The pure delight of Adagio honeys is their variety and how each has been selected to marry well with particular teas. Choose from these raw honey delights: Classics like Manuka, Tupelo, and Sourwood, and teas formulated to go with herbals and true teas: Green Tea Honey, Black Tea Honey, Fruit Tisane, Garden Herbal, and Rooibos. Have fun!
Sourced from Florida for its proximity to a variety of citrus blossoms, this Orange Blossom varietal has notes from lemon, lime and grapefruit. The amber color darkens naturally over time, if you can resist using it quickly! Assertive, dense, and perfect for any black tea, plain or flavored, Black Tea Honey enhances layers of flavor profiles and highlights added flowers or fruits. Lovely with heavily-oxidized Oolong Teas and delicious with chai blends.
This pale honey, produced from the Black Locust plant that grows in Pennsylvania, has hints of vanilla that bring out the fruitiness and fragrance in tisanes like strawberry or blueberry. The delicate flavor of this honey has a rumor of acidity that adds an elegant overall balance to tea. Excellent with scones or biscuits.
Made from the nectar from Maine blueberries, our Garden Herbal Honey has a slight blossom edge, a clear, clean liquid, and pretty medium amber color. It brings out the essential floral or herbal quality in any tisane. Substitute for butter or clotted cream on your scones for extra deliciousness. Great to enhance creams or butters as condiments or as an ingredient in baked goods.
Sourced from beekeepers in Pennsylvania, it is made with variety of Goldenrod honey known for its light floral flavor profile. This delicate, light-tasting honey creates an unexpected creaminess to green tea and extends the inherent grassy vegetal taste without overpowering the innately "green" essence. Excellent with both white and greens, particularly matcha.
Grown only in New Zealand and Australia, the Manuka tree's flowers offer nectar that is rich in health benefits due to methylglyoxal (MGO); ours contains certified MGO 100+. The taste is slightly mineral, earthy, with an edge of menthol for a cool mouth feel. An exceptional honey for tisanes and floral blended black teas.
Sourced from the nectar of the Japanese Knotweed grown in Pennsylvania, our Honey for Rooibos has an intense molasses quality that brings out the floral fruitiness of Green Rooibos and the natural earthy essence of Rooibos. Excellent, too, with Honeybush, We suggest you try this with mushroom dishes like risottos.
One of the three most popular U.S. honeys, our Sourwood comes from North Carolina (others are grown in Tennessee and South Carolina) and its exceptional production resists crystallization making it ideal for cooking meats and strong flavored vegetables. There's nothing "sour" in this light amber honey with flavor notes of star anise and maple and a light astringent note that blends so well in blacks or dark oolongs like Ti Kwan Yin.
Thin, clean, and clear golden, Tupelo has a signature honeyed fragrance and taste, redolent of the delicate fruity flavor and mild floral fragrance of Florida's White Ogeechee Tupelo Trees. This high-grade "queen" of honeys rarely crystalizes and a teaspoon goes a long way to sweetening your favorite teas, particularly white, green or soft herbals like rose or chamomile. https://www.adagio.com/honey/index.html
RECIPES FOR ADAGIO HONEYS
Three delicious recipes below!
SHAKEN HONEY MATCHA LATTE
Before making this recipe, make a honey simple syrup by combining 2 parts Green Tea Honey to 1 part hot water. Heat in a saucepan over medium-low heat until the mixture reaches a simmer. Remove from heat and cool. If not using immediately, store at room temperature or refrigerate as desired. Lasts 4 weeks in the refrigerator.
NOTE: you can add flavorings, as desired, to the syrup while it is simmering, such as pomegranate seeds, vanilla bean, grapefruit peel, rosemary or peppercorn, or other aromatics, herbs, spices or citrus peels.
INGREDIENTS:
1 oz. honey simple syrup
2 teaspoons Matcha tea powder
2 oz. hot water
16 oz. coconut milk
ice, as needed
DIRECTIONS:
• Combine Matcha tea powder and hot water in the bottom of a shaker or bottle, and stir with a spoon until fully dissolved.
• Add the Honey Simple Syrup and coconut milk.
• Top the shaker with ice.
• Close the shaker and shake for 10 seconds.
• Pour beverage into pint glass and top with more ice if needed.
NOTE: Excellent cold or frozen, or serve hot.
YIELD: 2 generous servings
HONEY BUTTER
Simple and sweet.
INGREDIENTS:
½ cup butter, softened to room temperature
1/3 cup honey of your choice (I prefer Tupelo or Fruit Tisanes)
½ teaspoon grated orange peel
DIRECTIONS:
In a small bowl, combine all the ingredients and mix thoroughly. Using a rubber spatula, scrape the mixture into a bowl, smooth flat, and refrigerate until ready to serve. Makes a delicious topping over scones, biscuits, pancakes or French toast.
YIELD: ¾ cup of spread
HONEY ROASTED "Everything" CHICKPEAS
This is a highly addictive snack that is nutritious (protein from the chickpeas) and delicious (from the seasonings and honey.) You can also add them as "croutons" to a salad or as a topper for any one-pot dish like chili, stews or soups. The seasonings noted below are suggestions; feel free to add your favorite spices. Just make sure to add both the honey and seasonings toward the end of the baking to avoid scorching. The finished chickpeas should be very crispy, golden glazed and fully coated by the ingredients. This is a two-step recipe, one for the chickpea mixture and the second for the honey mixture.
INGREDIENTS FOR THE CHICKPEA MIXTURE:
1 (16 oz.) can chickpeas
2 teaspoons vegetable oil
1/8 to ¼ teaspoon sea salt
DIRECTIONS for Chickpea Mixture:
• Drain the can of chickpeas in a colander and rinse thoroughly with cold water. Pat dry the rinsed chickpeas thoroughly in a linen cloth. (Avoid paper towels as they will break and stick to the chickpeas when wet.)
• Place the rinsed and dried chickpeas in a mixing bowl. Add vegetable oil and sea salt, and toss to evenly combine.
• Place the chickpeas on an aluminum foil-lined sheet pan, spreading the chickpeas out evenly across the pan. Bake for approximately 30 minutes, pausing to shake the pan from time to time to evenly cook the chickpeas.
• Baked chickpeas should have an even roasted color, remain whole and be crunchy in texture throughout (not soft inside).
• Remove the baked chickpeas from the oven (reserving the aluminum foil lined pan) and place in a mixing bowl.
INGREDIENTS for the Honey Mixture:
2 tablespoon Sourwood Honey
½ teaspoon EACH of poppy seeds and white sesame seeds
¼ teaspoon EACH of caraway seeds, dried garlic flakes, dried onion flakes, and cracked bell pepper
VARIATION: Substitute the above spices with 2 teaspoons "Everything but the Bagel Spice" or spices of your choice like chili pepper, garlic, and black sesame seeds or rosemary, thyme, and oregano
DIRECTIONS for the Honey Mixture:
• Immediately add the Sourwood Honey to the baked chickpeas and stir with a wooden spoon to coat.
• Add all the seasonings to the chickpeas, then stir the chickpeas to evenly combine.
• Immediately place the seasoned chickpeas back on the reserved aluminum foil lined sheet pan and bake, at the same 400°F, for approximately 10 more minutes. REMEMBER, oven temperatures vary, so to keep an eye on these as they burn easily.
• Remove from oven and allow chickpeas to cool to room temperature.
YIELD: Makes 4 servings