Enjoyment
Sleepaway Sip-Track 2017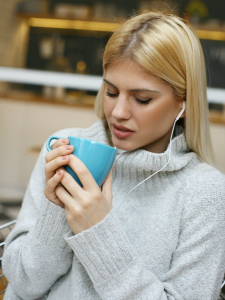 It's January, and you don't want to get out of bed.
I don't blame you! The month is often cold, wet, and leaves one feeling all too groggy, at the end of a tough day that's been filled with hard, oppressive work. Especially when you have the luxury of a toasty room, it makes it all the harder to crawl out from under those tempting sheets.
And don't get me started on super-comfy pajamas! (Mmm, flannel...)
Sleephacking has shown that if productivity is the name of your game, it matters less how much sleep you get for a good restful night, as long as the quality of sleep is sufficient for your needs. That being said, with the caveat that it has to be really good REM sleep, it's safe to get less than the usual doctor's recommendation of 8+ hours for maximum return on investment. And when I say, "Really good REM sleep," I mean you should wake up feeling like you just had the best meal of your life combined with the best spa experience ever. (Power-nappers may be familiar with this concept already. If so, you're ahead of the curve. Boom!)
Who to call on for a crazy feat like that? This is a job for TeaJay Gyoku-Roshi, master DJ sommelier. Last January he brought back the sun, so now let him soothe your slumber, with beats for the best rest this side of the Mississippi. All these pairings are caffeine-free, and you may go through the whole track, or do it tea by tea, song by song on repeat, depending on your goals for maximum sleep effect.
Sleepaway Sip-Track 2017!

1. Lebo M. : The Lion Sleeps Tonight

Sweet as vanilla, let the lilting voice of Lebo M. enfold you, gently rocking you to dreamland like a happy lion cub in his mother's embrace.

(Do lions rock their babies? No, but all babies like to be rocked. Hush up, drink your tea, and go to sleep.)

2. Passion Pit : Sleepyhead

There's nothing like the classic bedtime tea. Also, since anti-inflammatory chamomile is excellent for fighting fevers, your Sleepy Head will rest easy no matter what ails you.

3. Dreams : Lord of the Rings: The Fellowship of the Ring Soundtrack

Soft and smooth, spearmint is the aftertaste of a good tooth-brushing before bed. And if you're prone to hobbit habits — ie: breakfast, second breakfast, lunch, dinner, supper, etc — then you'll need the fastidious oral hygiene of an Elf in order to keep up with it.

4. Dream On : Aerosmith

Oranges are packed with flu-fighting vitamin C, and the supertangy notes of this Blood Orange tea echo the yowling shrieks that punctuate the chorus of this song. Rock your sleep, indeed.

5. I Dreamed a Dream : Susan Boyle

Susan Boyle, bless her. May the voluptuous flavor of Wild Strawberry be as rich and warm as her voice, and may you dream not just of times gone by — but all the wonderful times to come.

6. I Dreamed A Dream : Idina Menzel

- Foxtrot

What, the same song? But a different artist. Idina breathes a new life into this tune, airy yet piercing, an antidote to your fears and doubts for the future. This, of course, requires a different tea entirely, and the sassy nature of Foxtrot was the only one that stood up to the challenge.

7. Dreams Come True, Miwa Yoshida and co. : Eternity

- Cha Cha

This song was originally from The Swan Princess, a classic 90s animated-princess story. (Not Disney, mind you!) It's a comforting look at the idea of forever as something to look forward to — not be afraid of. Cha Cha is ready and willing to take you there.

8. Lana Del Rey : Once Upon A Dream

Yes, this song has been covered by a million artists and their mothers. Yet rather than subjecting you to the pop-happy tunes of a Disney child star, let yourself slip into dreamland with Lana's rough-yet-gentle rendition of this vintage classic, with the soft rasp of nutty rooibos on your lips.

9. Lithium : Evanescence

Now, if you're super caffeine sensitive, then you may not want to go with a tea that has actual cocoa nibs. In that case, sub it for Rooibos Cocomint and allow the haunting soprano of Amy Lee to lull you to sleep.

10. Lady Gaga : Marry The Night

Lots of punch in this song, and lots of punch in this tea. You are a warrior queen, my friend, and after a nap to this song, you'll be ready to take on the world. (Warrior kings included in this statement.)

11. Valeria : Rhythm Of The Night

Now, this song is only one that's about staying up all night. If you want to grab this tea, please don't wait until the last minute — because then that's exactly what will happen. And much like turning in your midterm at 3 in the morning, when the deadline was 11:59pm, ordering tea at that hour is a risky business. Not to mention hazardous to your health and sanity. Please sip well, relax in the warm embrace of Valeria's voice, and don't do the above.

12. Melissa Joan Hart : Lullaby

This song, from the Scarlet Pimpernel Soundtrack, is a plaintive cry for forgiveness and absolution. But don't you cry, my darling — you are home.
Cheers, peace, and blessings!