Culture
Purity: A Meaningful, Tea-Inspired Benefit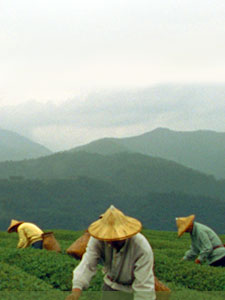 Purity: A Meaningful, Tea-Inspired Benefit for the American Botanical Council
November 3rd, 2011 2-9pm
Ramscale West Village Lofts 463 West Street New York, NY
Join The Meaning of Tea® for a tea-inspired gathering on November 3rd in NYC at the Ramscale West Village lofts, to celebrate and benefit the American Botanical Council the nonprofit herbal research and education organization.
In the afternoon, you'll be treated to tea and book signings by noteworthy guests. Those who purchase Early Bird Tickets will have access to a VIP tea tasting of The Meaning of Tea®'s new line of signature teas.
The main event begins at 7pm with an abbreviated screening of the film, The Meaning of Tea, followed by a panel discussion about the role of tea and herbs in our society with our special guests.
Herb-inspired hors d'oeuvres by Cynthia Gold, author of Culinary Tea, a wide selection of premium tea, wine and tea-infused cocktails crafted by Brooklyn Gin.
For more information and to purchase tickets, please visit http://themeaningoftea.ticketleap.com/tea-inspired-benefit/
Mark Blumenthal
Mark is the founder and executive director of the American Botanical Council (ABC), the editor/publisher of HerbalGram, and the senior editor of three of ABC's books.
http://www.abc.herbalgram.org/
Dr. Selena Ahmed
Selena is an ethnobotanist, author of over a dozen articles on tea, and co-author of Tea Horse Road: China's Ancient Trade Road to Tibet with photographer Michael Freeman. She is currently a NIH IRACDA postdoctoral fellow at Tufts University where she is leading a project on the impact of climate change on tea production quality and associated farmer perceptions and adaptations. This work builds on her previous research on cultural practices, biodiversity, and health properties associated w. various tea production systems in the mts. of SW Yunnan, China.
http://www.riverbooksbk.com/
James Norwood Pratt
James Norwood Pratt has served the cause of tea around the world for thirty years as author and teacher. Instigator of America's present Tea Renaissance and our acknowledged Tea Sage, he is quite possibly the world's most widely read authority on tea and tea lore. His most recent books are JNP's Tea Dictionary and The Ultimate Tea Lover's Treasury. http://www.jamesnorwoodpratt.com
Letha Hadady
Letha Hadady, D.Ac. is a tea enthusiast nationally certified in acupuncture and Asian herbal medicine from Tri-State College of Acupuncture and Shanghai College of TCM. She is the author of Asian Health Secrets, Healthy Beauty. Letha has led walking tours of New York's Chinatown and Little India food/herb markets for over 20 years and taught workshops through New York Open Center, Beth Israel School of Nursing, and the Rosenthal Center for Complementary and Alternative Medicine.
http://www.asianhealthsecrets.com/
Jeff Carpenter
Jeff Carpenter owns and operates Zack Woods Herb Farm with his wife Melanie, who is an herbalist, where they grow and market 35 species of certified organic medicinal herbs. He is an agricultural consultant, educator, researcher, and is the co-director of the International Herb Symposium.
http://www.zackwoodsherbs.com/
Scott C. Hoyt
Scott is a filmmaker and director of The Meaning of Tea. His longtime interest in tea evolved as he studied various alternatives to orthodox modern medicine and learned that tea is one of the cornerstones of living a well balanced life. His perspective is augmented by years of world travel, and exploration into Eastern thought. Scott is on the board of directors for Global Learning Across Borders, a member of the Directors Circle for the American Botanical Council.
http://www.themeaningoftea.com