Enjoyment
Monthly Musings September 2009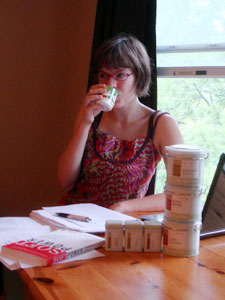 Hello Tea Lovers!
As summer comes to a slow but lovely end, we here at Adagio are gearing up for cooler weather. Cooler weather usually means a boost in hot tea sales, so we are ready to offer you some great teas to welcome fall with!
Many of you have taken advantage of our Fresh Arrivals promo (free with a $19.00 purchase- please follow the link to the email message you received to access it!). This sampler includes three brand new teas: Kai Hua Crescendo, a green tea that carries a particular sweetness alongside orchid notes, Xue Ya Ballad, a green tea with a fruity tinge, and Black Dragon Pearls large, robust black tea handmade into teaballs, each unfurling to a sweet and earthy complex taste. These teas all hail from China. We also are pleased to include in the sampler, a new harvest of Gunpowder which is a bit greener that previous harvests; please feel free to revisit this popular green tea!
I'm also pleased that by the end of this month, many of you patient customers will be rewarded with the 2009 harvest of Japanese teas. Many of these teas have been out of stock- hojicha, kukicha, genmai cha to mention a few!- and our apologies- we did not know our stock would fly off the shelves like that! Please keep an eye out for this on our website, or visit the page of the tea you're interested in and enter your email address for a notification!
This month also marks the first month of a very exciting project- Adagio Teas' Roots Campaign. We know how important it is to you the customer, to know where your tea is coming from. Starting this month we will be featuring a different tea farmer from various tea growing regions- China, Japan, Taiwan, South Africa, India. We have interviewed these gift people who farm and hand process the tea you enjoy, and we hope you enjoy in turn reading about their lives and what it takes to make exquisite tea. We will also be offering a chance for you to help the tea farmer out as well- each month the farmer's tea that he produces will be featured, and a percentage of the month's total sales will be donated directly to him. Read about our first farmer, here
To close out this summer, I'd like to present our winner of our Tea Pictures contest; Anastasia K! She did not enjoy a far-flung, exotic vacation but instead was hunkering down at her home, studying intensively while pursuring her graduate degree! Go Anastasia! She mentioned how much tea she consumed and how much it was an integral part of her studying and attending classes. I was also able to empathize with her, as I enjoyed many a 'stay-cation' this summer as opposed to opting for a faraway (and expensive!) vacation. Thanks to all who submitted pictures!
Hope you're enjoying a big cup of tea!
Yours in tea,
Christine