Enjoyment
Monthly Musings August 2009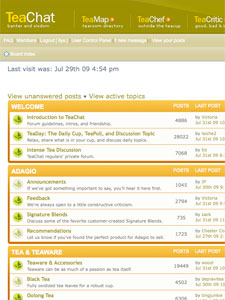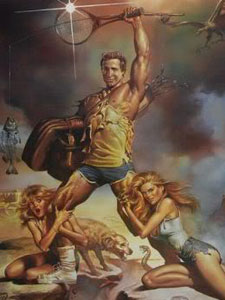 Hello Tea Lovers!
If you are a fan of Adagio Teas or gourmet tea in general, you probably have stumbled across TeaChat.com at some point during your internet wanderings. If you are unfamiliar, TeaChat.com is a message board devoted to all things tea and is busy with over a thousand active posters. Conversation isn't limited to Adagio Teas however and extends the gamut of topics: vintage pu erh cakes, beautiful teaware from different material, excellent places to purchase teas, recipe swapping, brewing suggestions, and reputable vendors - online as well as brick and mortar. Come explore more of the world of gourmet teas by signing up for an account on our newly redesigned site! If you have a question about tea, it's guaranteed that you'll find an answer there.
For our patiently waiting customers, our apologies! I know a fair amount of you have been anxiously awaiting the return and restock of many of your favorite teas. We hope to have our flavored green teas back in stock by mid-August.
Be sure to check out the feature article on tea connoisseur, Jason Walker. He'll be starting up an exciting series of online tea tastings in August! Check out the article for more information on how to get your sampler pack and when the tastings begin.
Before I sign off here, please remember to send me your summer vacation pictures!! I would love to see who else is enjoying Adagio Teas this summer. Remember, I'll be choosing my favorites and those winner will receive a nice iced tea gift set. Email them to me! christine@adagio.com
Hope you're staying cool!
Yours in tea,
Christine