Enjoyment
Monthly Musings July 2009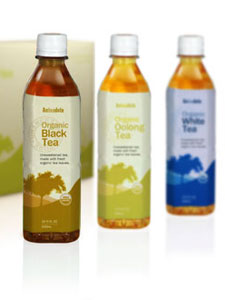 Hi Tea Lovers!
We are in the midst of a steamy summer, so I hope everyone is staying cool and hydrated. A great healthy way to do this is to enjoy our zero calorie, sugar free, organic iced tea anTEAdotes. It seems like a lot of you are taking advantage of our anTEAdote offer and we thank you so much! If you still haven't stocked up, please take advantage of our summer sale - 2 cases get 10% off, 3 or more cases get 15% off, and free shipping on all orders of anTEAdote! The steal of the summer!
As much as our anTEAdote (especially green and oolong!) hits the spot, I'm more of a make-your-own iced tea kind of person. I always have a big jar or pitcher of iced tea in the fridge for when the mood hits, and it usually doesn't last too long! My favorite flavors to brew up are Adagio's Ginger Peach with fresh peach slices, Apricot Green, and White Blueberry with fresh berries and a little simple syrup. I love kicking back right after sunset with a glass of iced tea on my patio and a good book. Simple summer pleasures.
What are your favorite teas to make iced colds for the hot summer months? And do you have a favorite place where you enjoy your tea? I would love to know what you all are up to during the summer months. Send me your favorite summertime vacation pics to where you are enjoying your iced tea and I'll feature my favorites in next month's TeaMuse. My favorite pictures will also receive a tin of one of my favorite teas to make iced. Send to christine@adagio.com
I'll be keeping an eye out for your pictures! Meanwhile, enjoy these warmer days. Keep an eye out for us on Twitter for up to the minute news and updates.
Also check out our Signature Blends page every Monday for a new episode of AdagioTeaV (you might have spied my quick cameo a couple of weeks back!) with Zack Luye.
Leaving you on this TeaMuse.com note with a fun video made by customer Chad Walker using stop-motion animation and Adagio Tea samples! Thanks, Chad!
Yours in tea,
Christine