Enjoyment
Remember the Kids (& Kids at Heart) this Season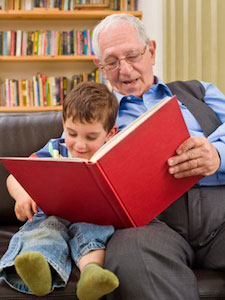 One of the most cherished memories for many of us is remembering how we were read to, be it bedtime stories, ghost stories around a campfire or in a library or schoolroom. Stories can enchant and delight, inform and instruct, make us laugh or cry. That's why books are perfect gifts, timeless and enduring.
And, what's more exciting than adventure stories or classic fairytales from the brothers Grimm and Hans Christian Anderson, the adventures of Madeline or Babar, Jungle Jim or Just So Stories, Tales of King Arthur and the Knights of the Round Table, Treasure Island or R.L. Stevenson's timeless poems in A Child's Garden of Verses?
All of us at Adagio have at least one childhood book we like to share so we developed a lovely line of tea gifts just for the little (and big) ones on your list. These delicious teas, all caffeine-free, can inspire loads of activities with your children, nieces and nephews, or fire up the kid in you:
read from an anthology of fairytales or from a favorite book as you sip tea together (soft, comfy chair, optional)
ask the children to make up a story to go with the tea (give them one word and off they'll go)
make your very own book of your very own stories. Use colored papers and pens tied together with colorful ribbon or yarn or, if really ambitious, use a publishing software program on the computer
create a collage of photos and artwork to tell a story about your family
stage a play inspired by stories you've written (costumes are a must)
host an afternoon tea and invite each child's favorite storybook character to join in
All you really need is a generous dose of creativity, some hot water for the tea and a little time to spend with your favorite kid, or "kid at heart". How's that for a holiday gift?
Our Tree House collection is the perfect fuel to charge up the powers of invention and imagination.
What is it like to be an astronaut flying into space? Drink up Rocket Fuel for energy to soar up to the planets. Fresh rooibos flavored with delicious fruit pieces and flower petals will certainly sustain any out-of-this-world traveler.
What if we could be a dinosaur from ancient times and ancient lands? A taste of our Tea-Rex just might be the way to understand these humungous creatures. Yummy honeybush tea with chocolate, cherry and apple pieces is just the right diet for this trip back in time.
Monsters like to hide, but brewing up Monster Brew will bring them out into the open and you can scare them away. This wonderful blend has everything to make you strong: honeybush tea, green rooibos tea, dried coconut, fruits and chocolate. A recipe for a hero/heroine.
Story Time Revealed
Don't venture down the rabbit hole without our Alice in Wonderland tea that becomes a creamy liquid from green rooibos tea, apple pieces and pretty blue cornflowers and rose petals. You're sure to be the Queen of Hearts when you give this tea to your own "Alice".
"Red Riding Hood" is just the tea to pack to visit Grandma's house. Its wonderful scent will totally frighten any big bad wolf that might be prowling the woods. The blend of cinnamon bark and cocoa nibs, fruits and rooibos tea makes this a tea for courage.
The bad wolves are at it again, but "Three Little Pigs" tea will give you time to build a home whether straw or brick and leave those silly wolves in the dust. Silky chamomile flowers, crisp lemongrass and soft rose hips are a few of the ingredients to defeat fear and gain strength.
You'll rest as easy as Sleeping Beauty with this delicate blend of peach and rose and marigold with honeybush. We cannot promise ageless beauty, but we can say that your face and body will look and feel rested and refreshed.
Once the handsome prince catches a whiff of this fragrant herbal blend, he'll be on his way to save Snow White from the evil Queen's poisonous spell. Too bad she didn't have this healthful blend of red apple, green rooibos, hibiscus, dried cherries and cocoa nibs, but you can.
Pumpkins aren't just for carriages to whisk Cinderella to and from the ball. They're also the perfect ingredient for holiday tea: natural pumpkin spice flavor with golden marigold flowers, a hint of cinnamon, rose hips and apples in a honeybush tea. Won't that make you dance all night?
Whether you're looking for more ideas for children or for adults, check out our wonderful teas, teaware and special selections (candy cane or chestnut tea, anyone?) and know that yours will be the tastiest gifts of all.