Drinks & Eats
Delicious Recipes for Summer Desserts and Drinks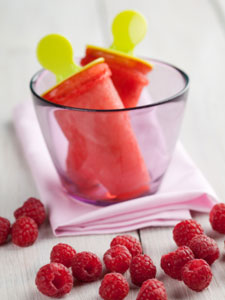 Iced Tea Popsicles: A Sensational Alternative
The iced tea popsicle is so simple to make and, with all the choices of ice cube shapes and sizes, you can really have fun with this. But first, you are going to need a popsicle mold. The best choices are made from silicone. Craft or culinary shops have a wide selection of these molds with ready-made handles. In addition, they carry ready-made sticks, so stock up, because everyone's gonna love these!
You can use plain teas of all types, or combine the teas with fresh berries or cut up fruits for a pretty look and yummy taste. You can also combine the teas with your favorite juices. Cranberry or orange juices are great.
Some of our favorite teas for a delicious frozen treat are found in Adagio's Tea Samplers. With the samplers you get a variety of great teas in different categories so you can mix and match to find the perfect recipe.
Here's a basic recipe. You might want to measure how much liquid your molds contain and adjust the amount of tea in the recipe accordingly. Some incredibly popular iced teas are Adagio's White Peach and also the Blueberry tea, which has natural blueberry flavor and pieces of dried blueberries.
Ingredients
3 heaping Tablespoons loose leaf tea or 4 teabags plus 3 cups boiling water
3 heaping Tablespoons sugar per serving, adjust to your taste. (Freezing reduces the sweetness so add a little more than you would normally use.)
½ cup or more of berries (raspberries, blackberries or cut-up strawberries) or cut up pieces of stone fruit (peaches, nectarines, plums) or any of your favorites.
Directions
Brew tea and water in either in a large glass measuring cup or a teapot for up to 3-5 minutes, or according to vendor's directions. If using tea bags, simply remove them after brewing, squeezing out as much of the tea liquor as possible, then toss the bags.
Pour the liquor into the molds. If using loose leaves, strain out the tea leaves and flavoring bits, and pour into popsicle molds.
Add berries or pieces of cut up fruits, as desired, and place them strategically in the molds for the prettiest look. (You can also pick out bits of flavoring from teas and put them back into the molds.) If molds don't have handles, place sticks in the center, and freeze overnight or up to 12 hours. They may not make it past breakfast on the hottest days! Yield: 4 servings, easily triples!
NOTE: To add a little bite to the popsicle and to keep the cut up fruits fresh before placing them in the mold, you can sprinkle a little freshly squeezed lemon juice over them.
ALTERNATIVE SUGGESTION: If popsicle molds are not available, this recipe makes beautiful and tasty ice cubes that you can add to your next pitcher of iced tea. Just pour into the ice cube tray, freeze as suggested, pop them out when frozen, and put them in the pitcher. Add your iced tea and serve.

The Classic Arnold Palmer
Arnold Palmer may have retired from golf decades ago, but his name remains a household word for those who love a drink he developed because he simply loved the combination of lemonade with iced tea.
It's refreshing, great for kids or adults, and if you want to spike it with liquor, it accommodates that, too. In other words, the perfect summer party drink is the Arnold Palmer!
His original effort began with a highball glass 3/4th full of iced tea which he leveled up with 1/4th lemonade. That's the benchmark; adjust to your taste. For the wee ones in your group, or those who don't want much caffeine, make the combination ¼ part tea and ¾ part lemonade (or use a decaffeinated tea).
For the quickest preparation, use sun tea made with teabags set into a clear jar of water and placed outdoors in the morning. And, of course, store-bought lemonade makes the recipe effortless. If, however, you're feeling really ambitious, try this great from-scratch recipe.
First, make the simple syrup. What you'll need:
1 cup sugar
1 cup water
Directions
Into a medium saucepan, place both ingredients, and bring to a boil. Simmer until the sugar has completely dissolved. Remove from the heat and allow to cool. Yields about 1 cup.
Next, prepare the tea.
4 heaping teaspoons or 4 teabags of your favorite black tea or iced-tea blend(Ceylon or a breakfast blend would be a good choice)
32 ounces boiling water
Directions
Place the tea leaves or bag in a large teapot and brew with the hot water for about 3-5 minutes.
Additional Ingredients
1 cup freshly-squeezed lemon juice
Zest from one lemon
2 cups ice cubes, plus additional cubes for serving
Directions
While the tea brews, place the lemon juice, zest and iced cubes in a blender and hit the puree button. (This is noisy but thorough!) The end result is nearly a sorbet.
To serve, place 3-4 ice cubes in a large glass, top with the tea to about three-fourths full. Add about ¼ cup pureed lemonade and stir. Serve immediately. Yield: 4 servings.
White Tea with Cucumber
For total elegance and sophistication, try this summery combination for chilled (not iced) tea. It is wonderful all on its own or with light pastries or a simple summer salad. Even at room temperature the combination of cucumber and white tea is thirst quenching and doesn't compromise the flavor of this delicate tea.
Ingredients
4 heaping teaspoons white tea
32 ounces water
½ large hothouse cucumber, thinly sliced (about ¾ cup)
Directions
Slice the cucumber in half and seed it. Cut them into thin slices, keeping the skin on. (If hothouse cucumbers are not available, use Persian cucumbers. If neither are available, use regular cucumbers but peel those to avoid bitterness.)
Heat the water to about 170°F. then brew the tea for 2-3 minutes. Allow to cool slightly. In a large pitcher combine the tea and cucumber slices and serve plain or at room temperature. Resist the desire for sweetening or lemon. Yield: 4 servings.