Travel
All the Tea in China: Shanghai's Best Tea Houses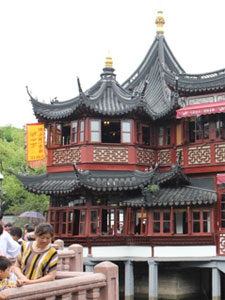 Like the coffee house to New York, China's tea houses are a ubiquitous part of the country's culture - and nowhere more so than in Shanghai. The most populated city in the entire world, Shanghai boasts over 3,000 tea houses, from old to new, modern to classic, no-frills to luxurious. So whether you're looking for a few moments solitude or a place to spend time with friends, here are a few options you can't afford to miss.
Mid-lake Pavilion Teahouse - the classic one
The oldest teahouse in Shanghai, Mid-lake Pavilion is well worth a visit on this premise alone. Built in 1784 and a teahouse since 1855, its long history means that the tea is supremely high class (and the snacks are delicious too). The zigzag shaped bridge that leads to the teahouse ensures that the atmosphere is always pleasant, as it's believed evil spirits cannot turn corners. Take a caffeine break after wandering the nearby Yuyuang Bazaar whilst you enjoy the beautiful music played by traditional Chinese instruments.
257 Yuyuan Road, Shanghai 200000
Red & Black Teahouse - the social one
Situated near Zhabei Park, the Red & Black Teahouse has a jovial and laidback vibe. This is a popular place to hang out with friends and play a few card games while you sip on some delicious tea. Don't be surprised when you stop by for just one cup and find yourself still soaking up the atmosphere a few hours later!
11 Pu Xong Lu, Shanghai 200072
Jingyuan Tea-Art House - the luxury one
As the name suggests, this elegant teahouse also doubles as a small art gallery. Situated in the Old French Concession Area, it creates the kind of atmosphere that makes you want to while away the hours imagining yourself as a lady of leisure. Sip tea and daydream about long lunches and luxurious lifestyles - but don't forget to also check out the impressive selection of art whilst you're there.
1 Wu Lu Mu Qi Middle Road, Shanghai 200040
Yage Leisure Teahouse - the 24 hour one
A popular teahouse open 24 hours a day, Yage Leisure is the go-to place for a late night caffeine fix. Located in the Pu Dong District, it comfortably seats over one hundred visitors, making it the perfect place to throw a tea party for family and friends. If you prefer your tea in a more intimate setting, Yage Leisure might not be for you. However, it can't be beaten if you're not constrained by the limits of time!
510 Lancun Road, Shanghai 200127
Rose House - the European-style one
If you're in need of a little slice of quintessential Britain in the depths of Asia, Shanghai's Rose House is the place to go. Serving authentic British tea and desserts, the wallpaper is flowery, the tea sets are delicate and the furnishings are classically European. You'll get to escape the hustle and bustle of the city for a few minutes and feel just like you're at a ladies tea party in the suburbs of the British countryside.
Super Brand Mall, 168 West Lujiazui Road, Shanghai 200120
Pacific Department Store, 333 Middle Huaihai Road, Shanghai
So if we've tickled your taste buds for the flavour of Chinese tea, Shanghai is sure to have a tea house that suits your needs. Don't hesitate a moment longer because this summer, there's great deals to be had on flights to Shanghai. You could be daydreaming the afternoon away - teacup in hand - sooner than you think.