Enjoyment
Plan Ahead for Earth Day, April 1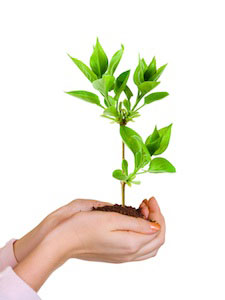 No foolin' readers, Earth Day is serious fun and, we think, should be celebrated every day. We're delighted there's a national push for Earth Day to honor our planet, protect our resources and learn how to use (and reuse) natural products.
Whether you have a window box of flowers, some pots of tomato plants on the balcony or the luxury of a full-bore vegetable garden, your plants will benefit from great compost. Perhaps the most welcomed addition to a compost pile is spent tea leaves because worms love tea and worms make the richest, nutrient-filled compost.
Our very clever ingenuiTEA teapot helps you collect tea leaves neatly and compactly for distribution into the compost. Here's how it works. Place the loose leaf tea leaves into the pot, pour on hot water and allow to steep. Then (and this is the magic/fun part), place the pot on top of a cup and the valve at the bottom opens up, allows the tea to pour through and you have a perfect cup of tea, or two. The teapot holds 16 ounces for a generous teapot or two full cups of tea.
You'll not only have a beautiful, clear cup of tea to savor, you'll be able to clean the pot in seconds. Just scoop out the spent tea leaves and put them into your compost bin. Rinse out the teapot and drain or put it in the dishwasher. It's made from dishwasher-safe, strong Tritan, a specially-formulated plastic that is also 100% BPA free. For more information, visit Adagio Teas.
Adagio Teas is doing its part to make every day Earth Day with our own project, planting tea trees and putting them up for "adoption" by our many customers. Hover over any one of the little green tea icons, click and you'll be taken to a full report on the tea growth progress. Our photos and annual reports have increased the excitement.
We're thrilled to announce that all three tea fields are filled with seedlings and, after the necessary three years of waiting, we're going to have our first harvest. Please mark your calendars for September; that's when the first harvests of these teas will arrive and you'll be able to taste them all.
The project included more than 1,260 tree seedlings planted in the Fujian province of China, birthplace of exquisite white teas; 1,180 in the state of Assam in India where you'll find rich hearty black teas; and 1,340 in Nantou, Taiwan (The People's Republic of China), a region known for its stellar oolong varietals.
You don't have to wait until September for a wonderful cup of tea. We suggest Adagio's own Irish Breakfast Blend of its popular Ceylon Sonata and Assam Melody to get you dancing the jig for St. Paddy's Day, March 17. This is the genuine article, the real deal, the breakfast bonanza of tea blends you've searched for to kick the coffee habit and lunge into each day with energy, enthusiasm and tea satisfaction. Steep with boiling water (212°) for 3 to 5 minutes. You'll love its wonderful combo of jammy aroma with a malty Assam flavor with an edge of genuine Ceylon briskness. Go ahead, drink it plain or add a little bit of milk, your toast will taste crunchier, the bacon crisper, and the oatmeal sweeter.
Available in loose leaf in a sample pack, 3 or 16 oz. sizes or in packages of our 15 pyramid tea bags so that the luck 'o the Irish can follow you to work and back. Soda bread, anyone?