Enjoyment
Tea Year's Resolutions: 2011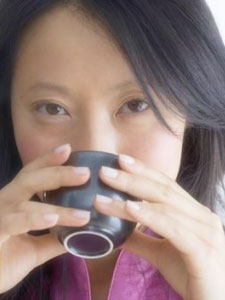 Welcome to the new year! Last year, Tiffany Picard gave us all suggestions of how to use tea as our guide when committing to some of the most popular New Year's resolutions. Regardless of how well you might have done last year, at least one of those resolutions is probably back on your list this year. They say that people abandon their resolutions when they're too broad, so I suggest we take another crack at 2010's by making them a little more specific for 2011.
Resolution 1: Lose weight -> Lose 5 lbs
If you met your weight loss goal for 2010, congratulations! If you didn't, it's time to try again. This year, instead of resolving to "lose weight"-a very vague, noncommittal resolution-resolve to lose 5 lbs (you can always resolve to lose more once you reach that goal). Tea can help you lose weight by supporting a very fundamental element of weight loss: proper hydration. Many people discount caffeine-containing beverages as contributory sources to hydration because caffeine is a notorious diuretic, but they shouldn't. The water in tea actually does hydrate the drinker, despite the effects of the caffeine. In fact, according to an article in American Journal of Clinical Nutrition, tea was suggested as a secondary source of hydration (after water), as the caffeine in tea (and the associated dehydration) is typically compensated for by the volume of water used to make it. Of course, this depends on the kind of tea as well as how much you're drinking, so if you're concerned about your hydration status following tea consumption, you can always drink decaffeinated or caffeine-free tea.
Resolution 2: Enjoy life more; don't stress out too much -> Take one tea break per day
Whether it's in the midst of your crazed morning routine or just a midday excuse to stretch, making a cup of tea gives you a great reason to take a break from a task at hand and focus on doing something for yourself. Even if your tea break entails filling up a cup of hot water at the water cooler and tossing in a teabag, it's still a little "me time." In addition, according to BBC News, "[tea] breaks are an essential part of coping with sedentary office life." While I certainly haven't conducted any clinical studies, I have found that taking a moment to savor the process of making tea or a cup of tea itself can help clear my head and keep me on track.
Resolution 3: Spend more time with family and friends -> Invite a family member over for tea
One of the easiest (and in my opinion, nicest) things you can do with someone is share a pot of tea. Whether you brew one up during a quick visit or make pot after pot and drink the night away, tea is a simple, thoughtful way to connect with others, especially family. A study in International Journal of Design found that, "Tea drinking improves people's social relationships in three different aspects: it expends their personal social range, helps them to maintain their social ties, and enhances the cohesion and identification of the family." While tea drinking is not nearly as engrained in American culture as it is in Asian cultures, it still offers an opportunity to make a simple but genuine effort for someone else. So call up your aunt, grandpa, mother-in-law, or any loved one with whom you do not spend enough time and invite them over for a spot of tea.
Resolution 4: Save money -> Pay off your holiday bills
Unfortunately, tea can't specifically get you out of debt (don't we all wish, though), but it can help. Have you heard of the "latte factor"? The premise is that saving small amounts of money every day-like the couple bucks spent on a daily café-made latte, for instance-can add up over time and be the difference between struggling to get by and living comfortably. Skipping your morning visit to the local coffee shop for your AM caffeine rush and brewing your own tea (or coffee) at home can potentially save you hundreds of dollars a year. Now, I'm not suggesting you never buy a cup of tea again (see Resolution 5), just that you modify your daily routine so it excludes buying individual cups of tea. The money saved can go straight to your credit cards to pay off your holiday spending spree. While it may seem like a stretch that doing this could actually make enough of a difference to pay off your bills, just think: even if you save only $20 a week, putting that towards your credit card bills will help pay off your debt a lot faster than if you're spending that money a little each day.
Resolution 5: Help others -> Support local tea merchants
Lucky for me, I can call Adagio a local merchant as we're both based in New Jersey. But for those of you who do not live a stone's throw away from Adagio, you can support local tea purveyors by patronizing tea houses or eateries that offer higher-quality teas, instead of going to big-name chains. Those chain joints won't have the same ambiance, charm, and selection that a real tea house will have, anyway. If you don't know where to find such a place, check out the TeaMap website, or download the TeaMap application that is available for the iPhone, iPod Touch, and iPad. With your patronage, these places can continue to spread the good word about tea.
Resolution 6: Save the environment -> Compost your tea leaves Not only does tea do wonderful things like reduce your carbon footprint, but it can help make your garden grow. Tea leaves make great compost, and adding tea leaves to your compost heap is an easy way to increase the nitrogen and acid content. Tea leaves can even be used as mulch and laid directly on soil. They are acidic, however, so make sure the plant you're mulching can handle that.
With the help of tea, we can all reach our New Year's goals and be more slim, calm, social, helpful, and green! Good luck, and happy 2011!
Has tea inspired or influenced your New Year's resolutions? Let us know how by leaving a comment below. Perhaps it'll make the list for 2012.