Drinks & Eats
Autumnal Tea Cocktails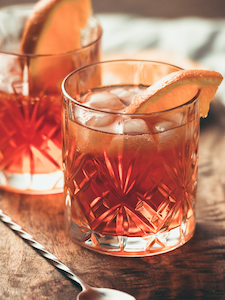 Autumn brings perfectly crisp weather, beautiful multicolored leaves, and the warm comforting flavors associated with popular fall dishes. It's the time of year to start gathering indoors for festive dinners and parties, so why not add a few new cocktails to your arsenal? Tea cocktails are trendy and delicious, and I've come up with a few that incorporate both tea and my favorite fall flavors. These recipes are versatile and can work for both large gatherings or a quiet evening at home.

Sparkling White Tea & Pear Mimosa
Apples seem to be the ubiquitous autumnal fruit, so I thought it would be fun to focus on a fruit that is just as delicious but doesn't get quite as much love: the pear. Pears are sweet and a bit mellow, a nice fruit to pair with white tea. I decided to add a bit of sparkle to this cocktail because who doesn't love a bit of sparkle now and then?

Ingredients:
(makes 2 cocktails)
— 8 oz water
— 2 tbsp Adagio White Pear tea
— 2 oz pear juice
— Prosecco
— ¼ cup diced pear: Bosc, Comice, or Anjou are great choices!
— pomegranate seeds

Place the tea in a mug or teapot. Bring the water to a boil and then let stand for about 30 seconds. Pour into mug and steep the tea for 3-5 minutes. Strain and allow the tea to cool. Once fully cool, divide the tea into 2 champagne flutes. Add the pear juice and fill the rest of the glasses with prosecco. Drop in a few pomegranate seeds and the diced pear for a touch of color and brightness. This is a drink festive enough start your fanciest dinner party, or just a lovely sip before a quiet dinner for two.

Fireside Old-Fashioned Cocktail
A smoky cocktail just feels like autumn to me. I think of sitting around a campfire cuddled in a heavy sweater, or nestled by a fireplace feeling warm and content.
To create a smooth and balanced drink, I like to make simple syrup out of a super smoky lapsang souchong tea and sugar. It's easy! In a small pot, boil a cup of water, then turn off the heat and add 4 tbsp of the tea. Once it's steeped for about 5 minutes, add in a cup of sugar (I like to use demerara sugar since it has a richer flavor that accents the smoke) and mix until dissolved. Cool completely and strain into a vessel you can store in the fridge. This drink can be customized for your taste — a little more water and ice if it's too strong, or less if you want it to pack more of a flavor punch.

Ingredients:
(makes 1 cocktail)
— 1 oz bourbon
— 1 oz lapsang souchong tea simple syrup
— Angostura bitters
— 1/2-1 oz water to taste
— 1-2 ice cubes
— orange peel garnish

Put the orange peel in your glass and muddle it a little bit with the back of a spoon to release the citrus flavor. Pour in the bourbon, simple syrup and a dash of bitters. Add a little more syrup if you desire. Mix and then add 1/2 oz of water, more if you prefer it. Drop in the ice cubes. This is a cocktail that's bitter, smoky and sweet. I think the simple syrup rounds it out nicely. Our take on the old fashioned brings a new tea twist.

Spiced Tea Toddy
Finally, we can't have an autumn cocktail list without one that is warm and comforting. A few years ago, I started making hot toddies when I was feeling a bit under the weather, and realized you don't need a cold to enjoy this soothing beverage. This recipe uses spices commonly found in pumpkin pie, and is the perfect thing to sip while you sit in a comfy chair, watching the leaves slowly tumble from the trees.

Ingredients:
(makes 1 cocktail)
— 1 1/2 cups water
— 1/2 inch piece fresh ginger, peeled & macerated
— 1/2 inch piece cinnamon stick
— 1/4 tsp grated nutmeg
— 2 whole cloves
1 tbsp Assam tea
1 tbsp honey (to taste)
2 oz bourbon

Bring the water and spices to a boil in a small saucepan. Lower the heat and gently simmer for 5 minutes and then add in the tea. Turn off the heat and allow to steep for another 5 minutes. Add in the honey (taste and you can always add more if necessary). Strain into a mug and add in the bourbon. Find the nearest comfortable chair and fuzzy blanket. Window, good book, or fireplace is optional.

Tea cocktails are a fun way to highlight your favorite teas in a festive way. Add in a few fall flavors and you have a true celebration for the season. Enjoy!