Enjoyment
Valentine's Day Teas Bloomin' with Flavor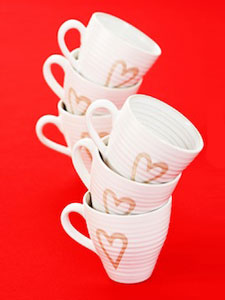 The creative minds at Adagio have developed what may very well be the ultimate gift of love, the exclusive, exotic, exciting collection called Love Petals. It's a set of three beautifully-blended teas that will surely please your sweetheart (and everyone else you love!) Love Petals loose leaf teas and pyramid teabags each are packaged in gorgeous, reusable tins, so no rushing around for gift boxes, wrapping and ribbons.
And, did we mention they're modestly priced? And, that the teas are such high quality that second infusions are the norm? Great tea, great value, great gift.
Here are the three selections. Betcha can't resist one (or more) of each for your loved ones and YOU!
Sweet Nothings
Don't let this delicate combination fool you. Its blend includes limited, sought-after white tea kissed with the sweet essence of apricots, peach and lavender that tastes like liquid spring blossoms on the palate. As you sip it, thoughts of oncoming spring will surely warm you. Iced tea lovers will adore this tea chilled, so sensuous, silky, sensational with marigold and lavender flowers, natural peach and apricot flavors. Brew lightly for best taste.
Hugs and Kisses
Herbal tea fans, rejoice! We've created a rooibos tea just for you that combines everyone's favorite South African brew with the sweetness of natural caramel, almond, crème and vanilla flavors. We added blue cornflowers and red rose petals as a little extra X and O for this delightful Valentine's Day gift. Deliciously non-caffeinated pleasure, hot or iced, day or night time. Add a little honey for an extra-special treat. Easy to drink, easier to give.
Ripe for Romance
What's rich with chocolate, sultry with raspberry essence and blended with an exquisite black tea? It's our "Ripe for Romance" blend, made for the Casanova to give or receive for a night of love. Caution is advised; this heady combination of cocoa nibs, black tea and raspberries is addictive. And, no, you don't have to share; it's the ideal tea for those times when you want quiet, rejuvenating time alone with pure tea pleasure. A drop of cream=p-e-r-f-e-c-t-i-o-n.
Enjoy the Convenience of Teabags?
Your wish is our command. Savor our Love Petals collection in 15 pyramid-shaped teabags, crafted with plenty of room for our superb tea leaves to offer their delectable flavor in the cup. Each of our Love Petals Teabag selections contains 15 pyramid teabags packaged in a festive floral (reusable!) tin. Love Petals Set of all three available.
Individual Tins: Sweet Nothings, 1.6 ounces; Hugs and Kisses, 4 ounces; Ripe for Romance, 4 ounces, each $9. Each tin contains enough loose leaves to produce 50 cups of satisfying tea.

Individual Tins of Tea Bags: $9 each; contains 15 pyramid-style teabags.

Love Petals Loose Leaf Tin Set: Save $3... $24, packaged in an elegant gift box. Sorry, only comes in the three-tea variety.

Love Petals Tea Bag Set: Sweet Nothings, Hugs and Kisses and Ripe for Romance available as a set. Save $3...$24, packaged in an elegant box. Sorry, one of each tea only.

Click away and your Valentine's Day gifts will be shipped today!