Drinks & Eats
Chocolate and Tea: Contemporary Valentine's Gifts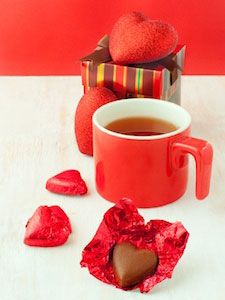 During the 6th century, B.C., Aztec Emperor Montezuma allegedly drank 50 cups of cocoa a day and in the 18th century, Italian lover/author, Casanova, was often seen quaffing a few cups of hot chocolate before heading off to another amorous assignation. Their successful conquests sealed chocolate as a desirable aphrodisiac and when Swiss chocolatiers devised ways to blend sugars with cocoa nibs to make candies and Dutch scientists figured out ways to improve the texture of drinkable cocoa, legions of chocolate lovers rose up to shout, "Hooray!"
The luxury and elegance of chocolate make it a natural for gift-giving all-year round, but especially on the day of love, February 14th. Although it's mostly custom, even scientists admit there's something to chocolate's naturally-occurring chemicals, serotonin and phenylethylamine, that increase the feelings of excitement and energy and heighten the sensations of love and romance.
We believe combining chocolate with our passion for tea is the perfect way to herald our sweet Valentine. Best of all, chocolate and tea recipes make for delicious flavor sans egregious calories. And, should you need more scientific elements of persuasion, remember that tea's theine and theobromine provide the alertness and energy to sustain us while sharing (with our favorite person) many delightful hours of dancing, dining, loving on this Valentine's Day.
If it's not romance that's reason enough for you to try this combo, perhaps the new study published in the American Academy of Neurology will change your mind. The study cited the improvement of mental clarity when participants who drank hot cocoa each day for just a month increased their mental acuity more than 8%, leading researchers to believe that cocoa may be one key to staving off dementia. Just imagine the health benefits of a cup of chocolate-infused tea.
From South America to Europe and back to the New World, chocolate has traveled the globe and in each new innovation garnered passionate lovers of this delectable treat, especially when added with another discovery, sugar. We suggest adding sweetening and, as desired, and the smoothness of cream or evaporated milk to add even more seduction to the cup.
To whet your appetite, Adagio Teas offers two fantastic chocolate infused teas: Chocolate Black and Valentines.
Chocolate Black tea starts with the bright edge of Ceylon black tea blended with the richness of dark chocolate that proffers a smooth, lush taste on the tongue, decadent and infinitely satisfying. Brew at boiling (212°) and steep for 3 minutes, then add evaporated milk or cream for a deep silkiness. Available in loose leaf in 3 and 16 oz. quantities or packed in pouches with 15 of our generously-sized pyramid teabags. Modestly priced but priceless in pleasure.
Our eponymously named tea, Valentines, is like drinking chocolate covered strawberries: fruity sweet and sumptuously aromatic. We blended a lovely black tea with natural chocolate and strawberry flavors, pure cocoa nibs and dark chocolate chips and strawberries with the delicacy of rose petals. Brew at boiling (212°) and steep for 3 minutes, then add a little maple syrup or brown sugar for a memorable lover's tea. Available in 3 and 16 oz. loose leaf selections or packed in pouches with 15 of our generously-sized pyramid teabags.
Want more choices? Search other Valentine's Day blends created by Adagio customers or create your own special blend like this.
Not into chocolate? We have many other choices for sweethearts: Passionfruit, Forest Berries or our other exotically blended flavors.
For a beautiful black tea with a rumor of chocolate (but no real chocolate), try the finest Chinese black, Keemun. This superb tea is offered in five exquisite varieties that will make anyone fall in love with camellia sinensis…or you. Steep at 212° for 3-5 minutes for a soft, sensuous cup of pure love.