Enjoyment
Graduation Day: Celebrating the Grad in Your Life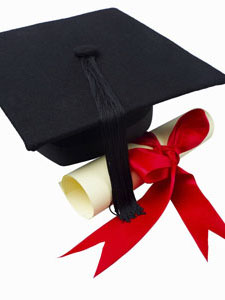 The milestone of graduation from high school, college, or a training program for the trades is something to celebrate. All that hard work has finally paid off. The countless hours of extracurricular activities like sports, debate team, internships and more have molded your young grad into well-rounded person able to step up to more rigorous academics or into a challenging new job. Affordable and fun gifts need only a little effort and some imagination to say "We're proud of you". We offer some all-time favorites and a few new ideas to inspire you to celebrate their latest achievement:
Classic Care Package: Pack a few home-made goodies, some delicious Adagio teas and coupons for discounts at places they love. Add some inspiration with a jar stuffed with quotes that you have written or typed onto pieces of paper. Fold these papers in half and stuff them into a box or jar. (Add a few family favorite jokes or comments or the most inspiring three words ever (I love you!) and your grad will definitely be inspired to keep working hard at school or at work. Send once a semester or once a month and stand back for the kudos!
Keep 'em Healthy: Whether it's a gym membership at a nation-wide chain, an upscale bike, several pairs of fabulous sports shoes for the runner or jogger, or an inspiring cookbook for healthy eating, send your grad off knowing that taking care of health is a priority. Tea is a great healthful beverage to share with them, so help them stock up. For portability, add a few bottles of Anteadote. Choose one or all five scrumptious selections of unsweetened bottled tea made from fresh tea leaves. Refreshing, healthful, portable and delicious.
Special Gifts for the Tea Lover: Nothing is more practical and easier-to-use than the varieTEA electric kettle. It not only heats water to the desired temperature for everything from white to black teas, it's a simple way to boil water for those "add water" food items in the dorm. Your grad will use it every day, and it's a great gift for the office too.
Check Out the Adagio TeaMap App: Will the new grad be doing some traveling? This app gives you information about tea rooms everywhere your grad will be. Use the app yourself to purchase gift certificates for him or her to make the spirit of afternoon tea a constant reminder of home and (probably!) a much-needed break after major exams or completed projects on the job. Available for iPhone and Android.
Financial Apps or Software: Managing money is something that's an on-going process that never ends. Give your grad a boost in the right direction by giving them ideas for managing their money while they concentrate on studying or working that new job. Free software like www.mint.com is a start and tons of apps are available for both Android and that other platform. What free or valuable financial programs do you recommend?
Create a Family Facebook Page: In this era of instant communication with texting, posting on FB and the rest, it's the personal that's valuable. By creating a personal page, one that can only be accessed by your grad and the family at home, you can help answer questions, give counsel for homework or "work work" and send virtual hugs no matter how many time zones away they are. Post pix of the dog, the garden, the silly and the sweet. Most of all, post how much you love one another and are proud of their forays into the next chapter in their lives!
Be Wild! Use the US Post Office: Nothing surprises or enchants like a personal letter, so keep in touch with a hand written note sent to your favorite grad as often as you can. It's literally something to touch, savor and re-read over and over again. To encourage a response, send your grad off with a roll of stamps and a package (or more) of notecards and envelopes or, better yet, beautifully personalized stationery for inspiration to write back...soon.