Enjoyment
Tricks and Teas for Halloween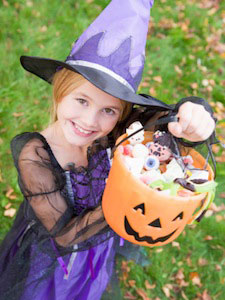 It's autumn, and that means it will soon be time to create a costume, host a Halloween party and create yummy treats for trick-or-treat guests. However you spend this year's All Hallows' Eve, here are two recipes to try at home. They're easy, delicious and pair fantastically with tea. Or if you're feeling a little daring, each recipe may be modified to incorporate tea as an ingredient.

Scary Fingers
This recipe is super easy and looks soooo scary. Served best alongside Dragon Well, Gyokuro, Matcha or Sencha as these teas will complement the white chocolate.

Ingredients
48 bread sticks or large stick pretzels
½ cup prepared canned white frosting or melted white chocolate
½ cup sliced almonds
1 tsp. red food coloring
Directions
Melt white chocolate, if using, or open can of frosting.
Scoop out 2 tablespoons of the frosting and mix with the red food coloring. Adjust for consistency and color. Set aside.
Dip each stick about ½ inch into the frosting and place a slivered almond on top. Choose the biggest slivers to best indicate a fingernail.
Fill an icing cone* with the red icing and make "drips of blood" along the stick.
Allow to dry in a tall cylinder or glass.
To serve to your unsuspecting visitors, wrap the glass in black netting, and offer one each.
Yields 48 servings.



*You don't need professional frosting tips to do this. Take a piece of paper, about 4" square and roll into a funnel. Snip off the end for your point, fill with the frosting and use to design the blood drips on the stick fingers.

Ghostly Cookies
These cookies can be hand formed; ghosts can be globby, but for a more precise appearance, get a commercial ghost-shaped cookie cutter, available wherever cooking utensils are sold. Another choice is to make a template freehand.

A second choice is to make circles and then make a little dip at the top to imply a pumpkin. Just add orange food color to the icing. These are yummy with a cup of green tea and fun for kids and grownups alike. Green tea and Greek yogurt make a wonderful pair.

Ingredients for the Cookies

2 sticks (1 cup) sweet unsalted butter, room temperature
1 cup granulated sugar
1 cup molasses
1 cup sour cream or Greek yogurt
2 teaspoons ground ginger
½ teaspoon salt
3 teaspoons baking soda
3 tablespoons white vinegar
3 large eggs, beaten
4 cups flour, sifted
Raisins or chocolate chips for eyes, optional
Ingredients for the Frosting
2 cups confectioner's sugar, sifted then packed
5 ½ tablespoons whole milk, warmed
3 tablespoons whole milk, very hot but not boiled
2 tablespoons butter, warm
1 teaspoon lemon extract
Directions
Heat oven to 350 ͦ F.
Line a cookie sheet (or two) with parchment paper and set aside.
In a large bowl, beat the butter and granulated sugar together until pale yellow, light and fluffy. Add the molasses, sour cream, ginger and salt and beat in until incorporated.
In a small separate bowl, combine the baking soda and vinegar, then slowly add it to the butter mixture.
Beat in the eggs until combined and then slowly stir in the flour with a rubber spatula.
Using a large serving spoon, scoop a heap of the dough and place on the cookie sheet, making sure they're at least two inches apart as they will spread. If you're making them into ghost or pumpkin shapes, roll out the dough, cut into shapes and place on the cookie sheets.
Bake 15 minutes or until a toothpick inserted in the center comes out clean. Transfer to a wire rack to frost.
While the cookies are baking, make the frosting.
In clean bowl, using a wooden spoon, beat together the confectioners' sugar with the 5 ½ tablespoons of warm milk and the 2 tablespoons of warm butter. Stir in the lemon extract and add the 3 tablespoons of hot milk. Beat until smooth. Use a teaspoon to scoop out the frosting for each cookie. Spread from edge to edge. Use either raisins or chocolate chips for eyes. Allow to set before serving.
Yields 40 small cookies.

Not enough tea?
The Scary Fingers recipe may be modified to include a sprinkle or two of matcha green tea in the white chocolate. The addition of matcha green tea will give the frosting a bittersweet taste your adult guests are sure to love.

Ghostly Cookies may also be modified to include tea in the frosting mixture. In lieu of using plain milk, infuse it with green tea leaves prior to beating together with confectioners' sugar and warm butter. The infused milk will bring the cookies to another level of flavor complexity. We recommend infusing the milk with vanilla green tea from Adagio Teas.

It's in the Bag
Parents across the United States struggle to keep their families healthy during the holidays. You can contribute to a stress-free holiday and give the children in your neighborhood a treat both they and their parents can appreciate. Adagio offers individually wrapped, caffeine-free teabags in fun flavors, perfect for dropping into candy sacks on Halloween.

Fruit Sangria – A jammy herbal blend of strawberry, hibiscus, apples, rose hips and lemon grass. With a pinch of sugar, it tastes strikingly similar to a more familiar sugary drink mix, without the additives. It steeps to a bold red color, reminiscent of warm blood, perfect for Halloween celebrations.

Rooibos Vanilla– Rooibos from South Africa blended with natural vanilla flavoring. This autumn, replace processed hot chocolate packets with this warm, buttery brew tasting just like vanilla cookies fresh out of the oven.

Foxtrot– This is the perfect beverage to enjoy after a busy Halloween. The blend of rooibos vanilla, peppermint and chamomile will promote a wonderful night's rest after a long night of trick-or-treating.

For a simple gift to adult trick-or-treaters, nothing could be more delicious or more fun than Adagio's seven different types of chai or scrumptious Pumpkin Spice tea, each available in easy to use and easy to give away teabags. Simply purchase these teas in 15-count teabag pouches and rewrap 1-2 individual teabags using inexpensive party favor gift bags.

But the fun doesn't have to end on Halloween. Adagio offers one chai for every day of the week, either caffeine-free (with rooibos) or blended with black or green tea. Savor one of these in private or purchase all seven to gift to guests over the fall season.