Drinks & Eats
Enjoying Thanksgivukkah Without the 5-Pound Gain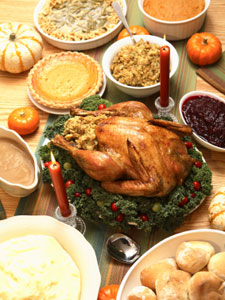 Whatever it's called during this significant year, the Jewish Festival of Lights, Chanukah, has the unique position to begin Wednesday, November 27, and end December 5, making the first day of this holiday the same as American Thanksgiving Day, November 28. So, the dilemmas begin: latkes (potato pancakes) instead of stuffing? Donuts instead of pumpkin pie? Or, have them all? As you can tell already, this is not a low-cal decision so it's probably significant to know this combo of feasts won't occur again until 2070.

Mom's apple pie. Aunt Sherry's awesome latkes. Dad's turkey! It's all so inviting, who could resist it all? Nobody. Fortunately, there's no need to resist or stress or suffer. You can taste everything and, with a little pacing, you can have your stuffing, and seconds, too.

On this national day of gratitude, we're grateful for you and your enthusiasm for our teas. We hope you'll include tea in your holiday celebrations. (HINT: Adagio teas make great hostess gifts.)

Our easy peasy ways to get through this day without a food "hangover" include a dose of tea for when things get out of hand at the dinner table:

1. Think before you drink. A wine spritzer has about 200 fewer calories than eggnog; fruit-flavored seltzers have less than 20 calories and teas have none. Want a real cocktail? Try our Lemon Grass Martini for a tiny calorie count (80) with big flavor (recipe to follow).

2. Eat all your favorite foods. Don't deprive yourself. (You know what the next line is.) Take small amounts of everything you love. Smell the delectable fragrance and linger over each forkful. Eat slowly. Savor each bite. A heaping tablespoon each of mashed potatoes and stuffing are fantastic eaten this way. A cup full of each gulped down in a rush, not. Take a bite, or two, of each dessert you desire. Satisfaction awaits you.

3. Be a good guest. Greet the host when you arrive and thank him/her when you leave. In the meantime, pay attention to who's standing next to you or sitting across from you. Every group has its characters. Embrace their eccentricities and remember, everyone has a story to tell. Find out what theirs is. Ask questions, listen. Each home has art, furnishings, accessories that are particular to the owner. Look at them all as if you were a tourist in a foreign country rather than a guest of friends or family. Connect.

4. Yes, you can have seconds. After eating and kibitzing, if you still feel hungry, have seconds. Choose only those dishes you really want to taste again. Eat slowly. Take total pleasure in it.

A few words to the hosts:

Always include fresh green salads, sauce-less veggie and side dishes and fresh fruit. It's a thoughtful way of giving simple choices to those guests struggling with weight or overwhelmed by too many choices.

Offer leftovers in small containers. And, don't be distressed if folks say no. It could just be their way of indulging today but not tomorrow.

Plan some activities that require guests to move. Depending on the weather and your surroundings, you can turn on the music and get everyone dancing. Or, if weather permits, offer a photo scavenger hunt. Using cellphones (you really didn't think guests would leave them at home, did you?), guests can snap photos things on the "hunt" list. Type 10 or more items for your list; make copies and hand them out to everyone who joins in on the fun. Have children team with adults to see who can find the items first.

Some ideas to include are particular flowers or trees, a bird native to your area, a statue, architecture types or whatever you like, with attention to some things at street level and some higher up. The hunt invites guests to learn more about your neighborhood, gets them walking before dessert time and anyone can participate, even those with walkers or wheelchairs. The person who first returns with all ten items correctly photographed in the cell phone wins a (non-food) prize.

Of course, if you have an expansive lawn and the weather cooperates, there's nothing like a game of touch football to burn off the calories.

Teas and Herbals to the Rescue

From the groaning table laden with every imaginable dish to the groans we make after eating what is usually a 3,000+ calorie meal, this feast day demands that we treat our tummies and psyches to something soothing and comforting (after pie.)

Chinese cooks often use leftover puerh tea to clean their woks so this classic fat-buster tea is great after a heavy meal. Adagio has more than eight pu erhs for you to linger over.

Want to drink something without caffeine? Nothing is better for the digestion than peppermint or spearmint to calm the stomach, aid the digestion and help make watching old home movies or a great television show or sit down to a challenging game of Scrabble® or gin rummy even more relaxing with your family and friends.

We suggest peppermint (Methoa piperita) because it has a natural calming effect for the intestines and the bowels, and helps us digest fats naturally. Please note that, according to the University of Maryland Medical Center, peppermint tea is not appropriate for anyone with a hiatal hernia, gallstones or GERD (gastroesophageal reflux disease).

Everyone can benefit from the soothing silky flavor of our fine Egyptian chamomile for a night time tea. Want to extend the happy time? Try yummy lemon grass plain or use it in the cocktail below:

Lemon Grass Martini
You can do most of the prep early in the day to have this wonderful drink to offer your guests as they arrive or as they extend the evening with tales tall and outrageous.

Brew two of Adagio's distinctive pyramid-shaped bags of lemongrass tea in two cups of boiling water (212 degrees F.) for 5 to 10 minutes. Allow to cool, about 15 minutes, then store in a tight-lidded glass jar in the refrigerator until well chilled, about an hour. This quantity of tea easily makes 10 martinis.

Put your martini glasses and the vodka bottle in the freezer to chill.

For the cleanest taste, a sugar syrup is critical. It's easy to prepare and you can double or triple the recipe and make it ahead as it keeps for up to two weeks in the refrigerator.

Simple Syrup Recipe
Combine 1 cup of water with 1 cup of sugar in a medium saucepan and bring to a boil, over medium high heat. Stir, with a wooden spoon, until all the sugar dissolves and the liquid is thick and smooth and coats the spoon. Pour into a clean glass jar, allow to cool, cover tightly with a lid and refrigerate for up to two weeks. This recipe makes 1 ½ cups of simple syrup. The reduced amount occurs because of the water condensation while heating.

Assembling the Martinis
On the theory that two martinis are better than one, this recipe serves two. Do not despair; the recipe can easily be quadrupled. The flavor of lemongrass is much more delicate than the tart-punch of the usual lemon drop martini and delicious. If you want a little more punch, use ½ ounce of Cointreau and 3 ounces of tea per serving. The amount of sugar syrup can be adjusted to taste.

1 ½ ounces simple syrup, cooked and icy cold
3 ½ ounces lemongrass tea, brewed and icy cold
4 ounces high-quality vodka, icy cold
Ice
OPTIONAL: sugar for the rim of the martini glass. Put a few teaspoons in the center of a small plate and spread to a flat circle. Moisten the rim of each martini glass with water and turn the glass rim side down into the plate filled with sugar until the rim is coated evenly. Set glass right side up and put aside while you mix the martinis.

In a clean jar with a lid or a traditional martini shaker, mix the lemongrass tea, the vodka and the simple syrup with a handful of ice and shake vigorously for 45-60 seconds.

Pour into the waiting glasses and serve. Cheers!