Drinks & Eats
Mojitea Time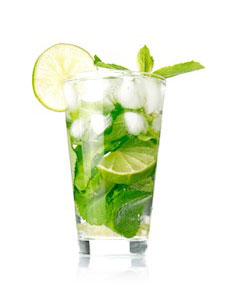 Around this time every year, I start thinking of new ideas for homemade treats to bring as hostess gifts for holiday parties or giving to friends and neighbors. It's difficult to bake for everyone because of specific dietary needs, but I've discovered tea infused vodka or gin is a hit!
There are a few things you want to keep in mind when creating a tea infused cocktail. One of which is not to worry about buying top shelf liquor; you can buy conservatively priced beverages because they'll be diluted with flavor and won't be sipped straight.
To make the tea cocktails, pour vodka (unheated) and tea into your ingenuiTEA or other tea maker. The ratio of tea per volume is typically 1/4 cup of tea per liter, but you can use more tea leaves if you want the tea taste a bit stronger. Let the tea and vodka steep for 2 hours (or longer if you want a stronger taste) and, using a funnel, pour it into decorative bottles or mason jars!
Adagio offers several wonderful coconut teas that would be fantastic in mojitos or tropical drinks! Infuse green tea and vodka to make an antioxidant packed martini. Try soaking some bourbon in Adagio's Pu Erh Chorange, or make a hot toddy out of chai infused rum!
Whether you're throwing the party or attending it, you can make any cocktail more fun with some tea flavored spirits. Your guests will be impressed when you arrive bearing delicious homemade tea cocktails. It sure beats showing up with a bottle of store-bought whipped cream vodka!
Adagio Coconut Pouchong Mojito
What you'll need:
5 sprigs of mint
1 oz. lime juice
1 tsp superfine sugar
3 oz. coconut pouchong tea infused white rum
Shredded coconut
Assembling the cocktails:
In a mixing glass, muddle mint in lime juice and sugar
Add ice, then coconut rum
Dip the rim of iced martini glass in shredded coconut
Shake and strain cocktail into glass
Enjoy!