Enjoyment
Luck o' the Irish Breakfast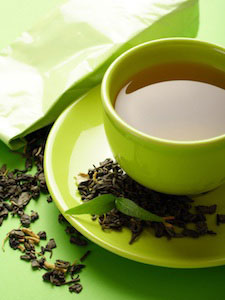 For Saint Patrick's Day, an official feast day, many people turn to green beer, green bagels or even green milk shakes. Rather than see how much green food coloring we can consume, how about luxuriating with a good pot of Irish Breakfast Tea. Although I rarely put milk in my teas, the full bodied and rich Breakfast teas can be made all the more comforting with a nice splash of milk. In this hectic day and age, who can say no to a little comfort shared among friends.

That same Irish Breakfast tea can inspire us in many other directions as well. Consider enjoying your St Patrick's Day tea in a different form. We've shared a couple of fun variations below to get you started.

Irish Breakfast Scones

These scones are a variation on the scones made by award winning pastry chef Jared Bacheller at L'Espalier in Boston. He is known for incredibly creative, complex and elaborate desserts, the ideal finish to a Tasting Menu at L'Espalier, but sometimes he is drawn back to the comfort and simplicity of the classics.

Yield 16 – 20 scones
3 heaped tablespoons of Irish Breakfast tea, divided
18 ounces AP flour
1.5 ounces baking powder
4 ounces 10x confectioners sugar
.25 teaspoon salt
4 ounces butter, cold and diced
2 each eggs, large
300 ml heavy cream
1 tablespoon vanilla
1 cup dried cranberries
1 cup dried currants
2 cups extra strength Irish Breakfast tea, using 1 heaped tablespoon of tea leaves

Take 2 heaped tablespoons of Irish Breakfast Tea and grind relatively fine. This should yield roughly 4 teaspoons of ground tea. Set aside. Bring 2 cups of water to a boil and pour over 1 heaped tablespoon of Irish Breakfast Tea. Let steep for 4 minutes and strain, discarding the leaves. Pour the steeped tea over the dried fruit and set aside until cool. This may be done several hours in advance if desired.

When the dried fruit plumped in Irish Breakfast tea has cooled, you may continue the recipe. Combine all dry ingredients including the ground tea leaves, and the butter in a mixer with a paddle attachment on low until crumbly. While mixing, slowly add eggs, then cream and vanilla. Drain the plumped dried fruit, gently pressing out any excess that was not absorbed. Discard the liquid tea and add the plumped dried fruit. Mix until just barely combined. Pour out onto a floured surface and pat into .75 inch thick square. Cut into shape desired. Brush with cream and dust with sugar, coarse sanding sugar if available. Bake in 350 degree oven for 10 to 15 minutes until cooked through and beginning to color. Serve warm or at room temperature. Consider serving them with orange marmalade and either clotted cream or Irish Breakfast Chantilly Cream.

Irish Breakfast Chantilly Cream

2 cups extra heavy or whipping cream
2 tablespoons of granulated sugar
2 tablespoons of Irish Breakfast tea leaves
1 tablespoon of Grand Marnier

Place cream and sugar into a saucepan and stir. Place over medium heat, stirring occasionally and bring up to a boil then immediately remove it from the heat. Immediately stir in the tea leaves and let sit until you like the level of flavor development, around 30 minutes. Strain the cream well and place into the refrigerator, covered, to thoroughly chill. This may be done up to 3 days in advance.

When ready to finish the cream, remove from refrigerator, stir well, and place into the bowl of a mixer with a whip attachment. Add the Grand Marnier and whip until soft peaks have formed.

Note: For a spiced Irish Breakfast cream, consider adding some or all of the following to the cream along with the tea leaves: cardamom pods, allspice berries, cinnamon stick, black peppercorns, clove, coriander seed and/or star anise.

A Different Sort of Irish Cream Tea....

Cream Tea brings to mind a wonderful cup of tea served with scones, preserves and clotted cream. For later in the day, consider a different sort of Cream Tea.

The Irish Breakfast Tea imparts added richness, depth and complexity to the Irish Cream liquor.

1 ounce infused vodka
2 ounces Irish Cream Liquor, such as Bailey's
Whipped Cream for Garnish, preferably Irish Breakfast Chantilly Cream
pinch of ground cinnamon or mace for garnish

Fill a rocks glass with ice. Add the vodka and the Irish Cream liquor. Stir. Garnish with a large dollop of Chantilly Cream. Serve with a small straw.

Irish Breakfast Infused Vodka

Use any good quality unflavored vodka. When strained this will hold for weeks allowing you to enjoy your 'Irish Cream Tea' on numerous occasions. If you do not feel you will need a full liter, you can scale it down.

1 bottle vodka (1 liter)
1 teaspoon whole cloves
.5 teaspoons cracked black peppercorns
5 tablespoons of loose leaf Irish Breakfast Tea
Combine all ingredients in a large pitcher. Steep at room temperature for 45 minutes or longer. Strain very well through t-sacs, coffee filters or multiple layers of cheese cloth. The key to an extended shelf life is good straining! Store in an airtight glass bottle at room temperature or chilled.