Enjoyment
Once Upon a Tea: One Adagio Fan's Story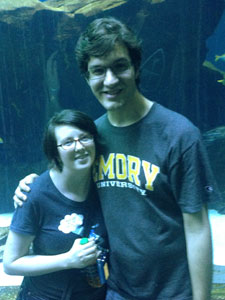 During the Summer after my freshman year, some of my best friends and I felt that successfully surviving our first year was worthy of prompting our first pilgrimage to the Mecca of nerds: San Diego ComicCon.
We spent days planning the trip. But, unfortunately, the tickets sold out hours after release, leaving our plans high and dry.
I will say this: I'm so happy we missed ComicCon, and this is why.
Among the venues we missed the most on our obsolete ComicCon bucket list was the "Japanese Tea Garden," a place where you can blend your own tea. I figured, "Well, I'm sure we can do it ourselves," and proceeded to the interwebs for more accessible alternatives. That's how I found Adagio.
At first, I was skeptical. Having such a variety of flavors and the opportunity to nerd out seemed too good to be true. But the charm was magnetic, and I knew this was the best way to bring ComicCon and that Tea Garden to my house.
I started small and made my first blends in August, 2012. The fandom of choice: Once Upon a Time. It was new at the time and just completed its first season. I ordered myself a Belle and Rumpelstiltskin and began waiting. Little did I know that these would be my best sellers eventually.
When they arrived, I tore into them the second I could. Five minutes and a pot of boiling water later, I had my first personalized loose tea experience.
And I needed to share it ASAP.
First, I went to my core Oncer friends, the primary testers of my formulas. Whenever we would have our OUAT viewing parties, I was always sure to bring my latest blends.
To my surprise — we weren't the only ones buying my teas! People all over were purchasing them! Fueled by this excitement, I crafted some more blends in the likeness of my other favorite characters. My initial repertoire of just four blends quickly grew to the double digits.
Then, I believe it after season 2 of OUAT just ended, something magical happened. I got a request!
Hope M., a fellow fanatic, commented on my Prince Charming blend. She complimented the formula and suggested two more blends: Mad Hatter and Dr. Whale.
How could I not oblige?
Another two on the digital shelves, and more sales soon followed.
A few more requests and giveaways, and people were sharing my teas all over cyberspace. I noticed that one Tumblr account, geekygrilexperience, championed a lot for me. Lo and behold, it was operated by the lovely Hope M! Just like the famous arc words of "I will always find you," in OUAT's first season, Hope and I found ourselves connected through the fandom blends.
She wrote extensive reviews on my blends, and I would share them via social media. It was a fantastic business alliance, but an even greater friendship. She invited me on her personal podcast to have our first real conversation — all devoted to Adagio and OUAT! That was one of her most downloaded episodes and my first foray into the fandom blogsphere.
And something to know about Hope — writing and blogging is her career. Conventions such as DragonCon and EnchantaCon are integral for her professional development, networking, and sheer enjoyment of course. With OUAT rising, its associated talent was making more appearances to these events. Hope saw this opportunity and helped me nail it — we were going to give these blends to the actual people who portrayed them.
It was utterly exhilarating.
We would devise any character blend that wasn't already completed, split the cost, and send them to her. I'm still in school, so I couldn't join her, but she kept me in the loop nonetheless. She visited Raphael Sbarge (Jiminy Cricket) and Keegan Connor Tracy (Blue Fairy), gave them their teas, and took pictures of them with it! They contacted her later and said how much they loved it — success! They even took blends of other characters that couldn't make it and delivered them for us.
I was obsessed. As a Oncer and tea enthusiast, I found myself giving tea for birthdays, holidays, or just because. It went full circle, too. For Christmas, I received a kettle with programmable temperatures!
Then, I received the greatest gift of all — an internship.
Momentary digression: I attend a wonderful liberal arts college in NY. Since I'm interested in pursuing a PhD, my favorite professor suggested I apply for this research program hosted by my dream graduate school.
They accepted me!
When I revealed the news to Hope, we died of happiness. Did I mention that she lives near the university I would be interning at?! We've known each other digitally for almost two years, and now we would meet in person.
My program lasted ten weeks, and despite the packed schedule, I was able to spend two days with her! She showed me around Atlanta, took me to her favorite restaurants, and gave me a bag of tea samples for my "blending research," as we planned on delivering several blends to the upcoming DragonCon!
Furthermore, the future of the Once Upon a Teas is quite promising. There's a OncerCon slated for Summer 2015. Hope is friends with some of the people organizing this event, and plans on recommending a Once Upon a Tea panel for the convention. Nothing is definite, but my fingers are crossed into knots for this to happen!
Adagio has been nothing short of awesome, and on a sappy note, it almost feels Shakespearean when viewed on the grander scale. Wasn't tea this grand, unifying product that stole center stage as the world started growing again following the birth of global trade? What began as a happy accident of a beverage eventually started traveling across borders and languages. And here it is, centuries later and oceans away, still working its magic.
Over 250 sales, 33 blends, 2 Oncers, and 1 awesome distributor: "priceless" doesn't begin to describe these memories paved in tea.
Check out Anthony Sementilli's blends and become part of this great story. Thanks again for sharing, Anthony!