Reviews
Classics on Tea For Your Personal Library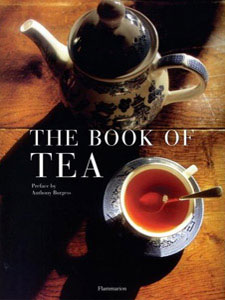 One of the charms of tea is the anecdotal storytelling that accompanies its history and presence in the cup. Love the adventure of a Patrick O'Brien novel? Then, you're sure to love the stories of the clipper ships galloping across oceans in a race to bring tea home and return to tea-growing countries with silver. Does fine teaware intrigue you? Then stories of China's pioneering porcelain manufacturing - whether blue-and-white or Yixing - to Britain's own trusty Brown Betty pots will fascinate you to no end. What about ceremony? How can any tea lover not be enthralled with the Duchess of Bedford's tea and toast that led to her country's legendary afternoon tea repast?
The following list of books is for both education and armchair dreaming with teacup at hand, to inspire experimentation and delight in all your tea drinking entertainment and solo pleasures. Each year, some 30 or more books on tea are published in the U.S. and abroad. Many duplicate existing information; however, these are unique enough and engaging enough that they will charm you for years. Most are still in print (although some require a little sleuthing), but we promise that the reading is worth the hunt because the writing is so well done and the illustrations, both photographs and drawings, are such a visual treat.
THE CLASSIC OF TEA: Origins & Rituals by Lu Yu. This is the first book ever written on tea and one of the best explanations of how to approach tea with care and attention to produce a satisfying cup. It was written in the 8th Century by the venerable Chinese tea master Lu Yu and Francis Ross Carpenter's 1974 translation into English was charmingly re-published in 1995 with Demi Hirtz's illustrations. Here one can learn how the ancient Chinese developed both utensils and preparation, how they gauged water temperature for each type of tea and the basics of Chinese tea lore from the man who was the first to write down the concept of tea as both beverage and social custom. The Ecco Press, hardcover, $20.
It's small, gift-able, and a delicious read: THE LONDON RITZ BOOK OF AFTERNOON TEA: the Art & Pleasures of Taking Tea by Helen Simpson. This witty writer discusses recipes, rituals, teas, accoutrements, and a little history in small bites, like perfect petit fours, each a singularly delightful morsel. This is the perfect beginner book for those in pursuit of leisurely English tea pleasure. Arbor House, a division of William Morrow, hardcover, $10.
TEA LIFE, TEA MIND by Soshitsu Sen XV is an exquisite example of how a venerable Japanese tea master can put just the right words onto the page to describe the feelings and emotions many of us have felt absorbing the quiet pleasures of this elixir we call cha. One doesn't need to know or experience the Japanese tea ceremony to appreciate the quiet observations in this book. Slim, available in many editions, and always moderately priced, this is the book for the bedside table, the reading corner, the private bench in the garden when you want the comforting companionship of solitude exploring the world where shogun and emperor, farmer and merchant, artist and business person are all on equal rank, sipping matcha in a refined tearoom. Shohitsu Sen XV was the Grand Tea Master of the Urasenke School of Tea and instrumental in introducing a cup of tea as a way for world leaders to meet together. Weatherhill, paperback, $13.50 (and many other editions.)
CHAI: The Spice Tea of India is still the only book on this venerable tea beverage in India. Masala chai, black tea with a mixture of Indian spices and made richer and healthier with milk, is drunk everywhere in India from monasteries in Sikkim to spice plantations in Kerala and all points in between. It's cheap, accessible, and quite delicious. True, the elegance of Darjeeling, the strength of an Assam or the blend-ability of Nilgiri served unadorned are other tea pleasures of this mammoth country, but masala chai is what warms the body as it nourishes the soul. This book is full of traveler's remembrances, loads of recipes, and a little more background on this popular tea beverage. By Diana Rosen for Storey Books, paperback, $16.95.
Among the better but no means error-free books on the history of tea is Flammarion's sumptuous, humungous, lavishly illustrated THE BOOK OF TEA. Fortunately, it was reprinted in 2009 as THE BOOK OF TEA: Revised and Updated Edition by the original authors Gilles Brochard, Nadine Beautheac, Catherine Dozel and Alain Stella with photographs by Marc Walter. This massive tome covers both eastern and European tea service well, and takes us to the tea estate in a variety of countries where we learn about growing, harvesting, and processing of tea up close and as personal as we can have it without actually flying 'round the world. A thrilling book to wander through, it is now well-corrected and more valuable than ever. Flammarion, hardcover, $40.
Garth Clark has written countless essays and a whole library of books on ceramics, owned galleries for the ceramic art, and does something that very few writers do: he charms while he educates. Two of his classics are now hard to find, but they're worth hunting down for the visual pleasures of the photographs and the delightful way he writes about the ceramic art of producing beautiful or whimsical teacups and teapots. Ideal books for the collector! THE ECCENTRIC TEAPOT: Four Hundred Years of Invention, Abbeville Press, 1989, hardcover and THE BOOK OF CUPS, Abbeville Press, 1990, paperback.
Another teapot book to hunt for is Leslie Ferrin's TEAPOTS TRANSFORMED: Function & Invention. Co-founder of Pinch Pottery and Ferrin Gallery in Massachusetts, Ferrin hosted the gallery's annual "Tea Party" to showcase more than 500 artists' vision of the teapot. It's no surprise that Ferrin's book captures the heart of both the collector and tea lover enchanted by the endless shapes and styles of teapots exquisite and comical, elaborate and simple, and some could even pour tea! This is art teapot lust at its most wonderful. North Light Books, hardcover, $35.
As noted, there are many books on tea published each year. These are sure to be enduring additions to your collection!