Enjoyment
Thoughtful Tea Gifts - Valentine's & Beyond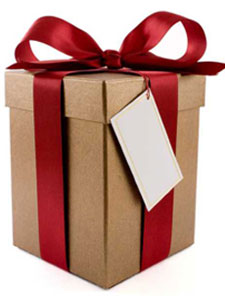 "It's the thought that counts."
Maybe, but a gift is even better if the giver thinks beyond the obligation of providing a gift and considers the needs and tastes of its recipient.
This past November, I began working as an Adagio Tea Consultant at our State Street store in Chicago and spent a great deal of time with holiday gift givers. Both tea and teaware, as it turns out, are popular gift items: reasonably priced, not fattening and generally free of controversy. What I really found to be fun, though, was working with customers who didn't want to just pick up a "neutral" gift for friends or family, but truly wanted to find something that the recipient would both use and enjoy.
Here are a few tips for thinking about the tea gift or gifts that you'd like to get for friends and family this year:
Learn Their Needs and Preferences
A bit of fishing for information can help you pick the right tea-related gift, though simple observation also works well. Of course, providing the recipient with a gift receipt or gift card can also help prevent disappointment, but it's always nice to get someone a gift that they can use right away. Here are some things to find out about:
Caffeine Vs. No Caffeine
While some folks are flexible about caffeine intake, others can be downright militant about their preferences for either a caffeinated or non-caffeinated beverage. If possible, pay attention to the beverages a person selects while dining out or using the office vending machine. When purchasing teas and tisanes for those who don't have preferences regarding caffeine, put together a mix of true teas and herbals so that the recipient can enjoy his or her gift both during the day and well into the night.
Teabags Vs. Loose Leaf
Not everyone has the equipment to brew loose-leaf tea. If you aren't sure if someone has appropriate teaware, think about including a teapot or infuser basket with your gift. When unsure, buy some loose tea and then add on a box of paper filters so that the recipient can make his or her own teabags.
If you know that someone enjoys loose-leaf at home but doesn't want to fuss with a lot of teaware at work, think about buying him or her some tea in both loose and teabag form. Another option is to purchase a box of paper tea filters so that your friend can make his or her own teabags.
White, Green, Black or Oolong?
Everyone has their tea preferences. While black tea may still be the most popular type of tea in the United States and United Kingdom, many people have discovered the pleasures of drinking green, white, oolong and even pu'erh teas. If providing several teas, try adding a slightly more exotic one to the mix: You may get your friend hooked on something new!
Flavored or Unflavored? Sweet or Unsweet?
I'm biased toward unflavored teas myself, but many people enjoy flavors, particularly if they are new to tea drinking or are branching out into green and oolong varieties. Fruit flavors have a broad appeal and many people really enjoy jasmine-scented teas as well. (Hint: Try pairing a gift of jasmine green tea with some high-quality chocolate. It's an inspired combination!) Don't forget some gourmet honey or sugars for those who have a sweet tooth!
Teaware Needs
If you have a tea-drinking friend, pay attention to his or her complaints or comments about drinking tea at home or at work. Some people might complain that their tea gets cold before they can drink it all: a teapot warmer or a cast-iron teapot can easily solve this problem. If they hate cleaning leaves out of their teaware, purchase a teapot with an infuser basket. If they are upset because they can't always get the right temperature for their green tea, buy them an electric kettle with an adjustable temperature gauge.
Matching Gifts, Occasions and Recipients
Matching a tea gift to an occasion is not only thoughtful but also a great deal of fun. In addition to considering the recipient's preferences, consider his or her situation and the context of your relationship:
Romantic
Valentine's Day is coming up and yes, tea can make a lovely gift. Teas flavored with flowers and chocolate are often a big hit, as are blooming teas. Consider a glass teapot paired with a beautiful rolled oolong such as Ti Kuan Yin: The unfurling leaves create a gorgeous display.
Get Well
Many people find tea to be a "nurturing" beverage. In fact, many Americans routinely got tea (with honey) from their mothers and grandmothers while recovering from a cold or the flu. A few teas and un-caffeinated herbals, along with a tasty honey and a colorful mug or teapot, can cheer up a friend who isn't feeling well. (Hint: If your friend is really sick and doesn't have a lot of help around the house, think about getting him or her bagged teas instead of loose leaf. Bagged tea is easy to prepare and clean up, which may be just what your friend needs.)
Healthy Lifestyle Encouragement
A selection of teas or herbals is a wonderful way of encouraging someone who is embarking on a lifestyle change. Convenience oriented teaware, such as tea infusers and teapots with infuser baskets, also make a life changes more enjoyable.
New Job
A travel or infuser mug makes a great gift for someone who is about to start a new job, as do "tea for one" sets. Add a few teas to make the gift complete.
Housewarming
Electric kettles, tea sets and even water filter pitchers work well as housewarming gifts, even if the recipients aren't regular tea drinkers. (Hint: Electric kettles are great for folks who like to cook as the kettles can boil water much more quickly than a range burner.)
Tea Geeks
Yixing and cast-iron teapots are classic gifts for tea geeks and many can't get enough of either. Tea tins are another option, as serious tea people always need good containers for storing their tea.
If you regularly, or even only occasionally, buy tea gifts for others, what are some of your best tips? If friends and family often buy you tea gifts, what would you like them to know or think about before making their selections?