Enjoyment
Give the Unexpected This Holiday Season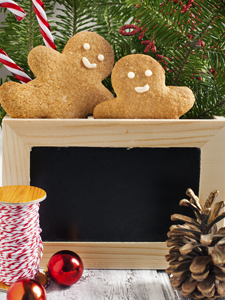 Gifts for family, friends, colleagues and those who make our lives easier all year long are part of the delight of this holiday season. Naturally, we think Adagio teas are the ideal gift, so we invite you to explore all our wonderful gift items, tea ware and teas. Here are some packaging ideas that are as unique as you are, with a definitive nod to the world of tea.
UPCYCLE PACKAGING
Reusing other packaging for today's gifts is not only smart recycling it's creative and fun. Clean, clear jars make great containers for home-made lemon curd or jam or sugar infused with a long elegant vanilla bean. Shoe boxes or any small cardboard box make an ideal way to package an assortment of fresh-from-the-oven cookies. Wrapping them up requires only some paper, yarn or ribbon and a choice of coverings:

Cover cookie tins or used jars with the traditional Japanese ​furoshiki gift wrapping cloth, which is a square yard of cotton fabric. Place the tin in the center of a pretty piece of cotton fabric,​ fold one corner over and under the box and fold the opposite corner down to make a straight edge, then pull it onto the top of the box. ​Take the two remaining corners and bring them together to tie a knot. No ribbon, no tape, no scissors needed. Easy and reusable packaging. ​For other furoshiki ideas, see ​​http://furoshiki.com/techniques.
Colored plastic wrap is easy, too, and helps show off the treats inside. Unroll a large piece on the table, place your tin or jar in the center, pull up the wrap to the top of the tin or jar, twist tightly and tie a pretty ribbon or piece of yarn around it to hold in place. Trim off any excess and it's ready to present.

UPCYCLE GIFT CARDS

Japanese wasabi tape, a paper tape that comes in a variety of colors and patterns that you can play with endlessly for shapes and designs, is perfect for covering shipping tags, index cards, any paper stock or card board you cut into squares, rectangles or other shapes. Easy, inexpensive and fun.
No wasabi tape? How about tea tags, trimmed teabag envelopes, cut out shapes from wrapping paper, illustrations from magazines or books? Cut them up, paste them down on one side of the paper stock. Trim the edges neatly and write your message on the blank other side with colored felt markers.
In lieu of a gift card, type up your favorite poem or saying about tea on pretty paper in an elegant font. Roll the page into a scroll, and add to any present you're giving.
Or, better yet, write something of your own about taking tea with your friend whether it's a short note or a poem. They'll love the personal touch. For inspiration, here are a few favorites:

Come along inside.... we'll see if tea and buns can make the world a better place.
Kenneth Grahame, "The Wind in the Willows"

Meanwhile, let us have a sip of tea. The afternoon glow is brightening the bamboos, the fountains are bubbling with delight, the soughing of the pines is heard in our kettle. Let us dream of evanescence, and linger in the beautiful foolishness of things.
Okakura Kakuzo

Having picked some tea, he drank it,
Then he sprouted wings,
And flew to a fairy mansion,
To escape the emptiness of the world...
Chiao Jen

The samovar is boiling, you can't leave now.
Russian Proverb


ACCOUTREMENTS
Accessories for tea preparation, often referred to as the French word, accoutrements, are part of the charm of a ceremony with tea friends or solo enjoyment. The feel of smooth wood of a treasured tea scoop, the beauty of a special tin to hold your favorite leaves, a pretty strainer, special plates and cups, and tea brewing vessels from around the world, all of them add to the visual and tactile pleasures of preparing, serving and tasting teas. Add one or two of these delights to your holiday gifts. If small, put the on top of the gift, under the ribbon, in lieu of a bow. Consider the serenity of chanoyu, the Japanese tea ceremony ​for your gift ideas. Chanoyu uses powdered green tea called matcha prepared in ​artisanal ceramic bowls by whipping hot water and the tea with ​delicate bamboo whisks​. ​Sip this frothy sweet spring-green tea and enjoy a ​lingering experience of peace​.
THE GIFT OF WATER
Whether your gifts are herbals or true teas, good quality water brings out the best flavor in the cup and provides even more value. Use high-quality bottled spring water or use our fantastic graviTEA for the finest, purest water. It filters out 80% of any chlorine and 70% of limescale from tap water in seconds, and it does it at twice the speed of similar products. Indicator light shines when filter needs replacement, so no guessing.
NOT INSPIRED?
We have the best solution: Adagio Gift Cards for your friends to purchase their favorite teas and tea-related items. Perfect for any occasion, or as a way to thank someone for a wonderful party.