Enjoyment
This Year, Let's Be Thankful for Tea!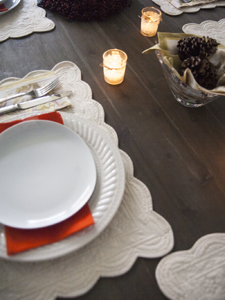 "Thank God for tea!
What would the world do without tea? How did it exist?
I am glad I was not born before tea."
― Rev. Sydney Smith


You don't need to be clergy to be thankful for tea, as Rev. Smith's sentiments ring true even for the most dedicated atheist. This year, and every year, we at Adagio are thankful to YOU for our continued success. How will you celebrate the gratitude of this holiday?


Table Favors Say Thank You Deliciously
At the holiday table, give each of our guests a little favor, a pretty paper bag with several teabags of our aromatic Pumpkin Spice tea. Our signature pyramid tea bags hold this wonderfully spiced loose leaf tea that gives pleasure and satisfaction. You can add to your bag as your budget allows to include a tea cup, a stick or two of cinnamon sticks and/or sugar cookies.
HINT: Add a name tag with both the guest's name and a short line of thanks, like "Thank you for being a great friend" or "Thank you for your kindness all year long" to "Thank you for being the best Dad & Mom". Make Cranberry Sauce with Tea
First, make a sugar syrup combining 3/4 cups of water with 2 1/4 cups of sugar. Combine the two in a large saucepan and bring to a boil and simmer until the sugar dissolves completely. This should take about 10 minutes. Add your choice of tea such as Earl Grey, a fruity tisane or a rich Keemun or Assam black. Use 1/3 cup of loose leaf tea (or 4 tea bags) heat through lightly, about two minutes to avoid over brewing. Strain the liquid and discard the leaves. Return the liquid to a pot and add l package of fresh or frozen cranberries and heat over medium heat until the berries start to pop or soften, about 10-12 minutes. Add the zest of an orange, stir, and pour the mixture into a heatproof bowl. It will thicken as it cools to room temperature. Cover and refrigerate. Yield: 1 cup, appx. Recipe easily doubles or triples. Makes a great holiday gift packed in small glass jars. Can be refrigerated up to three weeks.
HINT: This is a very flexible recipe that invites experimentation. Add spices or flavorings to the mixture if using a plain tea: whole cloves, whole star anise, cinnamon sticks, cardamom pods. Sweetening is a must for cranberries, but you can certainly substitute agave for part of the sugar or use apple or orange juice for the water and reduce the sugar 1/4 to 1/2 cup. Say Thank You to Others
Spread gratitude to all those who've helped make your life better this year. Did a teacher or tutor help your child with extra attention? Did someone give you more than 100% to make a project spectacular? Did you receive attention or care from someone without asking them? These are definitely people who deserve acknowledgement and thanks. Say thank you with Gift Certificates at fine restaurants, upscale food markets or from www.adagio.com or for those who are ardent tea lovers, consider giving one of our Adagio borosilicate glassware items. They're dishwasher safe and won't crack or shatter. And, they're priced for every budget, beginning at $9.
HINT: Do something different, include hand-written notes; they're becoming anachronisms in this era of technology. Invited to be a guest at a Thanksgiving feast? Send a gift with a hand-written note. It's an unexpectedly charming way to say thank you that's both personal and special. Invite Your Guests to Say Thank You
Ask those at your table to say what they're most thankful for this year. This is always a surprising experience, especially to hear from children! You never know what or who has touched someone else like improved health, finding a long-lost relative, getting help when least expected, the answers are legion and heartwarming.
HINT: If your group is includes guests who are new to one another, and may not want to say their thanks aloud, invite them to write what they're thankful for on a piece of paper and put it into a basket. Then select a "reader" who can choose a few to read out loud. That's sure to be an icebreaker and start the conversation rolling. May your feast be bountiful, cherished family and friends surround you, and may love and kindness warm you this Thanksgiving Day.