Reviews
Book Review: A Tea Reader:...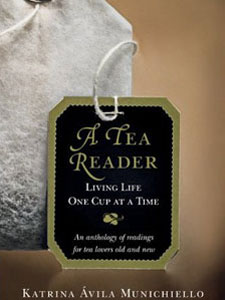 Book Review: A Tea Reader: Living Life One Cup at a Time
By Samantha Cappuccino-Williams
A Tea Reader: Living Life One Cup at a Time
Katrina Ávila Munichiello
Tuttle Publishing
If ever there was a perfect pairing, it's tea and reading. What tea lover doesn't adore steeping a cup of their favorite leaf and enjoying it with a favorite book? Both tea and books can elicit strong memories, feelings, and emotions, so it's no wonder they complement each other so well. And if you love and are inspired by both, what better subject would there be to read about while drinking tea than other tea lovers' musings about this beloved beverage?
A Tea Reader: Living Life One Cup at a Time, by Katrina Ávila Munichiello, the author of Tea Pages blog, is "an anthology of readings for tea lovers old and new." Munichiello shares with readers up front that, "This is not a book about tea. This is a book about how tea inspires memories." A compilation of anecdotes and memoirs from individual authors divided into five inspirational sections — Tea Reveries, Tea Connections, Tea Rituals, Tea Careers, and Tea Travels — A Tea Reader's tales include significant reflections and memories, cultural tea rituals and familial bonds, and personal tea experiences from around the world. Munichiello begins each section with an explanation of what is to come, adding her own experiences and thoughts and always seeming to beam as she discusses what is clearly one of her favorite topics. The contributors vary considerably, adding to the book's uniqueness and broadening its appeal. There are poems written by an ancient Chinese poet and an emperor, and excerpts from letters penned by renowned authors such as Rudyard Kipling and Louisa May Alcott. There are selections from the writings of tea legends like Thomas J. Lipton, the father of the Lipton Tea empire, and Robert Fortune, the botanist and explorer who uncovered many of China's tea secrets in the 1800s. And of course there are contributions from contemporary tea icons like James Norwood Pratt and other notable modern tea pioneers, bloggers, and just plain lovers. The book is an interesting and entertaining mix of many voices spanning many generations and many different parts of the world, and there is something within for everyone.
A Tea Reader is very much like a worldly and sophisticated edition of a Chicken Soup for the Soul book: the stories are short and each told by a different author, but the significance and emotional impact they have can be great. My favorites were George Robert Gissings' profession of appreciation for tea in, "After the Walk", and Stephanie Wright's revelation about the importance of tea when making tough decisions in, "I Don't Drink Tea." Like all of the stories, these two are heartfelt, honest, and inspiring. They provide a thoughtful perspective about tea and the feelings it can evoke, feelings that can differ immensely. They represent what I liked most about the book: the readings can give a reader new insight into tea, remind them of their own passion for it, or even show them that it's more than just a drink. For many, it's a way of life and love.
Publisher's Weekly called Munichiello's book a, "charming anthology," and that describes it well. It is a charming book that is well suited for helping one unwind — with a cup of tea, of course — after a long day. It is a contemplative but simple read that tea novices and tea experts alike can appreciate.
I consider A Tea Reader a great "fireplace read," as it's just the kind of book I want to curl up and get cozy with by a fire. So, as the weather continues to cool and you fire up your hearth, take Munichiello's wise advice from the Introduction and open this book, "Sit down, grab a cup, and enjoy."