Enjoyment
Honor Mom With A Delicious Gift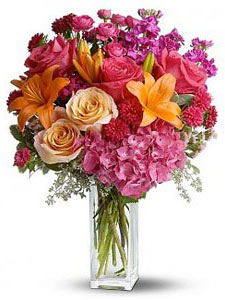 Landline or cell phone, the busiest day of the year for all phone companies is the second Sunday of May. That's because it's Mother's Day: time to call Mom and tell her how special she is to us.
Ever since President Woodrow Wilson signed the proclamation in 1914 making the second Sunday in May a time to honor all mothers, we've been using telegram offices, telephone companies, email servers, and the good old U.S. Post Office to send messages of love and affection to dear Mom.
No matter how old you are, you're still her special son or daughter, so tell her how much she means to you by stopping by for tea time Sunday, May 13th and present one of these tea gifts to her in person, or order online for delivery before Mother's Day. And here's a hint: forget the text or email and make a personal phone call so she can hear your warm voice acknowledging all the wonderful things she's done for you over the years.
Remembering Mom, Auntie, and Grandma
We recognize that some of us no longer have moms in our lives or some of us were raised by other just-as-special women, so make this a day to honor the treasured memory of those women who have graced your lives. Naturally, we think the best way to do that is to host a tea party! Gather friends of hers and friends of yours and family around you and share delectable tea, yummy treats, and favorite stories that celebrate the wonderful women who have supported you.
True, you can go the traditional route and send a box of chocolates or have pretty flowers delivered to her door, but to really get her attention, we suggest the gift of tea.
This year Adagio Teas introduced a new gift set just for this occasion: Sunlit Blooms. It contains three beautifully designed tins of loose leaf tea in a decorative gift box:
-Tisket A Tasket, green tea with a hint of vanilla and top notes of lemongrass, sunflower petals, and lemon.
-Bushel and A Peck is a fruity black tea combined with aromatic jasmine green plus a rumor of orange flavor, beautiful citrus peels, and soft chamomile flowers.
-Pocketful of Posies is for herbal lovers who enjoy the fragrance of fresh picked blackberry leaves combined with the heady scent of lavender flowers, rose petals, hibiscus and the silkiness of chamomile and the refreshing touch of peppermint.
Does mom prefer teabags? We have just the right choice for her: an elegant tin of 15 gourmet tea bags, each containing the same high-quality, full-leaf artisan herbals in our Pocketful of Posies. The pyramid shape of the teabags allows plenty of room for these delicious herbals to unfurl fully, offering Mom the ultimate in intoxicating fragrance and pure taste pleasure.
And, of course, you can please even the most discerning Mom's palate with our Adagio teas from around the world, or accessories from electric teapots to classic Japanese iron pots and more.
Make Something For Mom!
Feel like making something delicious for Mom's big day? Nothing says tea time like scones with freshly-made lemon curd. You can serve it to Mom or pack extra dollops in pretty jars in your gift basket.
Here is an easy-to-make lemon curd recipe everyone will enjoy:
TEA TALK LEMON CURD
INGREDIENTS:
2 large eggs plus
2 large egg yolks
3/4 cup sugar
2/3 cup freshly squeezed lemon juice, (about 3 lemons)
2 teaspoons grated lemon peel
1/3 cup (2/3 stick) unsalted butter, chilled and cut into small pieces

DIRECTIONS:
In a heavy-bottomed 1-1/2 quart saucepan, whisk the eggs and yolks together.
Add the sugar, juice and lemon peel.
Sprinkle in a few grains of salt and add the butter pieces.
Cook the mixture over low heat, stirring constantly with a wooden spoon (metal sometimes reacts with the lemon). Cook until it thickens enough to coat the back of the spoon, about 8 minutes. Do not let mixture boil, or the yolks will curdle.
Pour the mixture into a heat-proof glass dish and cover with plastic wrap.
Refrigerate for at least 4 hours before serving.
YIELD: 1/2 cup
NOTE: Meyer lemons are ideal for this recipe. Curd should be refrigerated; keeps several weeks...if it lasts that long! Recipe easily doubles or triples. Lemon Curd is excellent on toast, crumpets, scones or in mini tarts.
Recipe from STEEPED IN TEA© by Diana Rosen