Enjoyment
Gadgets, Gifts and Grilling with Dad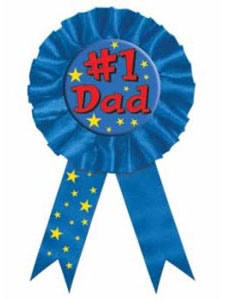 We hope your dad loves tea as much as you do. Some men erroneously think that tea is not a "manly drink." To prove those naysayers wrong, there are wonderful books on historic clipper ships, tea fables and lore or on Asian and European tea collectibles and tea art. And if your dad is already a tea lover, who wouldn't want a selection of his favorite teas or an elegant Yixing pot all to himself?
GUYS LOVE GADGETS
Ever notice that guys love their toys? Fortunately, tea-loving guys have plenty of gadgets and tools to choose from to enhance their tea drinking pleasures. Here's just a partial list:
Thermometers to check water temperature or our terrific varieTEA electric kettle that takes the guess work out of the equation by offering a range of temperature selections for white, green, oolong and black teas.
Perhaps wooden spoons for measuring tea, or tongs for lifting out infuser baskets or get the last delicious drop out of a tea bag (if he hasn't yet been enlightened to the delight loose tea can provide).
Don't forget bamboo or stainless steel mesh strainers for the loose-leaf tea lover or filter bags to use for brewing tea. Better yet, how about the sophisticated Glass Mug and Infuser? Nothing adds to the pleasure of brewing your favorite tea than a glass pot or cup to watch the water magically turn to an exquisite elixir.
If you'd rather do something for dad rather than buying a gift, make him dinner! Here are some great ideas to make the meal special with our favorite ingredient, tea.
GUYS LOVE GRILLING
Whether your dad loves to do the grilling himself or is willing to play king for a day and let you grill up something unique, add some tea to the dish. Yes, marinating foods in tea or using crushed dried tea leaves with spices for a rub are terrific ways to add the essence of tea to your dishes for dads, grand-dads, uncles or other important men in your life. We suggest turkey breast, cut up chicken parts, pork chops, pork tenderloin, salmon, halibut, or even tofu, but don't forget grilled veggies taste even better with a simple tea marinade.
SIMPLE MARINADE:
Nothing could be simpler or easier to use than this marinade.
Brew 2 cups hot water with 2 tablespoons of Ceylon black tea and steep for 3 minutes, then strain out the leaves. Add two tablespoons of freshly squeeze lemon juice to the brewed tea and pour over your choice of 4 chicken breasts which have been placed in a shallow pan. Allow the marinade to flavor the meat for at least 30 minutes, turning the meat at least once to ensure that the marinade saturates completely.
To grill, remove the meat from the marinade and place on hot grill for up to 5 minutes per side or until desired doneness.
Serve immediately with grilled corn on the cob and a fresh watermelon, arugula and feta salad made with a classic vinaigrette.
For a fruity taste for pork tenderloin or pork chops, try our Passionfruit Black (Ceylon) Tea for a very lovely taste.
BASIC TEA-SPICE RUB:
This recipe is simply a starting point; be adventurous and add spices that you know you'll love with the meat or fish you're going to grill. Some spices for black teas to consider are pink or white peppercorns, 5-spice Chinese mixtures or Indian masala mixtures. For more delicate rubs, think green teas such as Citron Green with a dash of white sugar or Mango Green. Each would marry beautifully with salmon, halibut or shrimp.
This recipe should easily cover 1 ½ pounds of fish, chicken, turkey or even firm tofu steaks for the vegan or vegetarian Dad.
INGREDIENTS:
4 tablespoons Keemun Concerto or Assam Melody
¼ teaspoon of whole black peppercorns<
1 tablespoon brown sugar
½ teaspoon salt
½ teaspoon whole coriander seeds
1 small Ceylon cinnamon stick
DIRECTIONS:
In a spice grinder, crush the tea leaves and spices together to end up with a fine powder. Pour the rub mixture onto a plate. Lightly mist the meat or fish with grapeseed or other light oil then dip the meat pieces into the rub on both sides. Set aside to allow the rub to absorb, at least 15 to 30 minutes.
Grill or bake as usual. (If you don't have a spice grinder, use a mortar and pestle or use "elbow grease" with a heavy tablespoon crushing the mixture in a medium size bowl. Do not use a coffee grinder unless you dedicate it to spices.)
Accompaniments can be grilled veggies (red onions, fingerling potatoes and yellow peppers or anything you like), steamed couscous with a garnish of dried apricots, roasted almonds and grilled onions, and fresh cantaloupe for dessert.
You might enjoy cooking with tea favorites from the TeaChef archives to whet your appetite, and dad's.