Profile
What You Need to Know About Shincha Sencha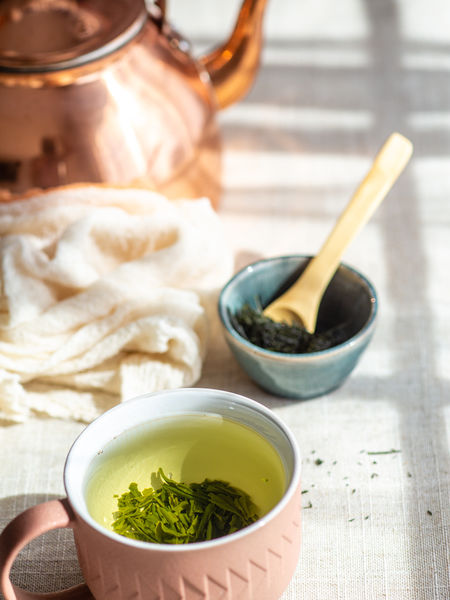 Today's roll call includes our Master Tea: Shincha Sencha!
INTRO: The very first plucking of the first harvest of the year is known as Shincha and is highly prized in Japan. While Sencha has a tendency to be quite brothy with strong umami notes the earliest harvests can be much lighter with hints of sweetgrass. Our 2020 Shincha Sencha is a light, layered cup. The nutty notes of umami hit your mid-palate, while delicate apricot lingers on in the finish. Elegant and lovely.
As the largest tea-producing area in Japan, Shizuoka rests on the Honshu's Pacific coast with an awesome view of Mt. Fuji. The province grows about 40% of the country's green (ocha) tea because of Shizuoka's unique terroir, four distinct seasons, and both a healthy rainfall and dense coastal fog to effectively grow an intensely-fragrant and flavorful Sencha. Legend has it that Soichi Kokushi, a Buddhist monk, planted the first green tea tree seeds in 1241 shortly after visiting China and obtaining the seeds there.
ORIGIN: Harvested in the spring, this first-flush green grows under the careful management of Farmer Katahira who grew up on a family tea farm and has learned first-hand the intense labor in both the harvesting and processing that results in a fine Sencha. One of Japan's most popular and beloved teas, Sencha has many grades, and it is the higher grades like Shincha Sencha that offer the most satisfaction. This selection has a more delicate flavor profile and, if you or your friends, are new to Japanese green teas, this is a perfect introduction to the intricacies of flavorful Sencha.
LEAF: The processing begins with steaming the leaves to give it an intensely green appearance. Like Gyokuro, the Sencha leaves are blended in with a bit of tea dust to make a lush cloud atop the brewed liquid and to elevate it to that fifth taste, umami, the "ultimate" a flavor can be.
HOW TO BREW: Care should be given to brew at a cooler temperature, preferably 180°F. for 2-3 minutes. Like all our first flush greens this year, this tea is a remarkable value not just for its wonderful taste but for its abundant infusions, typically 7.
TASTE: More delicate than most Senchas, this selection is reminiscent of freshly steamed edamame, both fresh and sweet with no astringent harshness. An exceptional every day Sencha for the discerning palate.
CAFFEINE Moderate Level.