Enjoyment
Fright Night Freestyle-Tea Style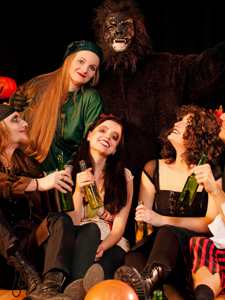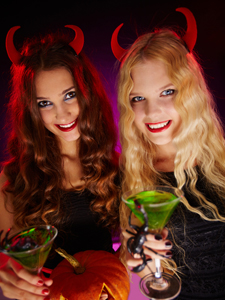 Hermits, I don't care what kind of hole you're in this Halloween. Even if you're by your onesie, there's still room to throw a Halloween party.
All it takes is a playlist.
A horrifically good playlist. (And, of course, the tea to go with it.)
After you've finished terrorizing the children in your zombie getup, slip into something more comfortable for the afterparty. Try out your slick new alter ego: TeaJay Gyoku-Roshi, master DJ sommelier.
Fright Night Freestyle!
1. MS MR: Bones
Yunnan Noir
This song first gained popularity when it was featured in a season trailer for Game of Thrones. Its dark, metallic ring echoes the bronzy notes of yunnan noir.
2. Roisin Murphy: Rama Lama (Bang Bang)
Blood Orange
It sounds like a serial killer banging through an alleyway to your door. Serial killer, blood orange, we good to go.
3. Weird Al Yankovic: Horrorscope
White Tropics
It's weird tea, for a weird guy, singing a song about the weird things that happen to the weird people who believe in horoscopes.
4. Rilo Kiley: Moneymaker
Genmaicha
The original purpose of this tea was to conserve money, as people added rice kernels to their green tea in the hopes of making it last longer during famine. Drink up and be thankful for more lucrative days.
5. The Killers: Bones
Formosa Oolong
It's only natural.
6. Cocorosie: Werewolf
Jasmine Phoenix Pearls
Soft silver moonlight notes, and as the song unfolds, so do the pearls. It's transformative sort of tea.
7. Lady Gaga: Monster
Gunpowder
Remember when Lady Gaga was genuine and good? Cuddling us all to her breast, calling us her "little monsters" like a spike-studded Mother Theresa. Maybe this tea will jog your memory.
8. The Matches: Between Halloweens
Chocolate Chai
Yes, we could have gone with a more popular FOB jam, like Immortals, and related it to sexy vampires or giant robots or something. But you know what? There's something even sexier about someone knowing what you did in the dark. Team up with the serial killer from Rama Lama and it's a real party.
10. Jonathan Coulton: Re: Your Brains
Mango Mate
Funky song, funky tea, and we've already gone over what yerba mate does for your brain. (Makes it more delicious for munching on.)
11. Sia: Bring Night
Darjeeling
This one. It just. Sings for itself.
12. Ellie Goulding: Animal
Thai Chai
Dusky, husky, and fraught with spice. Ellie's rough lyrics complimented perfectly by an unorthodox chai.
13. Bobby "Boris" Pickett: Monster Mash
Foxtrot
For the finisher. Bam.
Cheers.