Enjoyment
Monthly Musings May 2010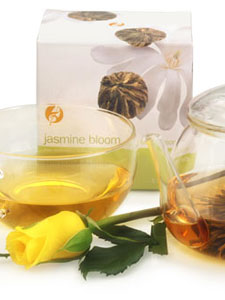 Hello Tea Lovers!,
May brings the celebration of some very special people in our world- Mothers. In my own circle of acquaintances, this year has brought a flux of new mothers, so for their first Mother's Day, I wish them all well! As for all mothers, the veterans and rookies, I hope they get to enjoy their special day with the ones they love.
Tea is a wonderful gift for Mother; think of it as a gift of peace and serenity, to thank her for everything. The very action of preparing tea can be somewhat relaxing, but most mothers will probably agree that they would rather have it made for them! Present them with one of our special Mother's Day gift sets. If you get to gift it in person, prepare them a cup of blooming tea and watch them inhale the sweet aroma, sit back, and relax with their cup. If you're sending it to your beloved Mother far away, get peace of mind that you have sent them an opportunity to take a break from all the hard work they do to enjoy a moment to themselves. We offer four sets at various price points, starting at $19.00 for two boxes of blooming teas. Also, as a special promotion for Mother's Day, grab a bottle of our tea honey for a discounted price of $6.00.
We have also launched our Masters Collection, an assortment of teas hand picked by our expert tea tasters. We have put together two different varieties- one that concentrates on beautiful, sublime oolong teas, the second puts together a strong cast of rich Chinese teas- one oolong and three rich black teas. The samplers are $29.00 for four teas, a small investment that will launch you into the world of fine teas- you'll be a connoisseur soon enough.
Though weather reports may prove otherwise (we've been through a series of chilly evenings here!) we have brought back our popular anTEAdote promotion from last year. Our anTEAdote teas come in 5 varieties; black, jasmine, green, white, and oolong and are all certified organic. Buy 2 cases, get 10% off; buy 3 or more get 15% off. Feel free to stock up now for the summer! They are excellent to have on hand for spur of the moment summer parties, picnics, or for summer vacations.
Lastly, thanks to everyone who participated in our Earth Day promo! We look forward to following your tea trees, as we are sure you are keeping a close eye out on your sapling. You'll be emailed on its progress, so be sure to check your inbox!
Please also stop by our latest Roots Campaign's farmer's page- remember, 10% of your purchases of their particular tea will go directly to them. Read about their life and how they grow your favorite drink here.