Reviews
Book Review, Tea: History, Terroirs and Varieties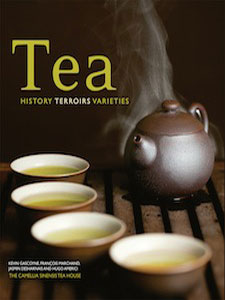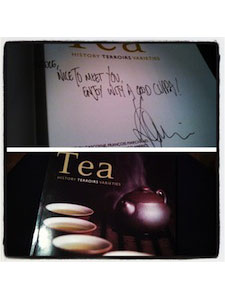 Tea: History, Terroirs, Varieties
by Kevin Gascoyne, Francois Marchand and Jasmin Desharnais
(Firefly Books: 2011)



I have been searching for the perfect book about tea for several years now and while there are many great choices, there always seemed to be something missing. I had read so many rave reviews of Tea: History, Terroirs, Varieties that I just had to check it out myself. The book itself is fairly large and filled with beautiful full color photographs. Content aside, it could easily double as a coffee table book.

It starts off by giving the reader a brief introduction to the world of tea. There is even a handy timeline that lists every milestone from the discovery of tea by Emperor Shen Nong to the fairly recent Pu'erh speculation bubble burst. I also really enjoyed that the authors explained the differences between varieties and cultivars (often a point of heated contention). They even discussed the rarely mentioned Camellia Sinensis var. Cambodiensis.

The following chapters discuss the main tea growing regions in depth. Everything that a budding tea drinker could possibly want to know is included. The geography, culture and unique tea customs are laid out in an easy to understand manner without dumbing it down or coming off as too stuffy. I really enjoyed the interviews with various tea industry professionals that are sprinkled throughout because they help to tell the story of tea in those countries. Each region's section finishes with the teas found there. The detailed descriptions along with images of dry leaves and steeped liquor can be used to identify teas.

Parts three and four are what really made this book stand out for me. Along with steeping recommendations, the science of tea tasting is explained in a way that I have not seen before. I think this is something that all tea drinkers struggle with at first. The flavor wheel and tasting terms dictionary can help to describe things we experience in the cup but don't quite know how to express. You'll definitely be hungry after reading through the tea infused recipes contributed by Quebec area chefs.

The final chapter focuses on the health benefits of tea. In addition to helping the reader to understand the biochemical makeup of tea, myths about caffeine and antioxidants are dispelled in a very scientific way. Rather than relying on common knowledge or repeating someone else's research, the authors had their own teas tested by an independent lab. The data tables are fascinating for both the novice tea drinker and those who are nerdy at heart.

I had the opportunity to meet Kevin Gascoyne and get my copy signed at a local tea festival. He was gracious, knowledgeable and incredibly happy to share his book. I can't say that I was surprised to learn that it is being used as a textbook for Tea Sommelier Program of Canadian Tea Association. Overall this was truly one of the most thorough books on the subject of tea that I have ever come across. It would make a perfect gift for the picky tea lover in your life who has everything (hint, hint!). Pair it with an assortment of quality loose leaf teas from Adagio for the perfect introduction to the world of tea.