Travel
Traveling and Tea: Have a Great Cup Anywhere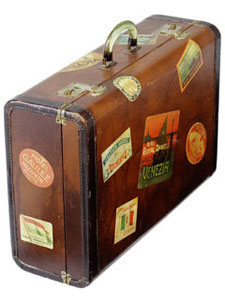 Anywhere in the world that you could travel, you'll find tea: tea rooms, cafes in museums, tea shops, farms that grow tea in the countries that grow tea (even in the U.S. - Hawaii, Oregon and on Wadmalaw Island off the coast of South Carolina), and museums dedicated to tea.
TEA IN FOREIGN LANDS
You've been backpacking for days, viewed breathtaking mountains and swum in beautiful rivers and now it's time for a little urban pleasure. You'll find it in the nearest multi-star hotel where you can order a cup of tea served to you in the lobby or in the hotel restaurant. The Taj hotels in India, the Four Seasons, Starwood and Hilton hotels throughout the world will be ready resources for a refreshing, restorative cup of tea. And, yes, it will cost more than you expect but, in addition to the delicious experience of a freshly-brewed cup of tea, you'll also enjoy the gorgeous ambiance for which these high-end hotels are famous. This is an especially lovely when you've budgeted strictly for weeks, a real treat!
I once thought I could not walk another step in London when, like a mirage, I found myself in front of the infamous and mammoth Harrods's department store. I went up to the beauty salon and asked for a pedicure but they were totally booked. The attendant could see the shattered look on my face and brought me to a little alcove, placed a warm sudsy footbath for my weary feet, offered a stack of magazines and ordered up a pot of tea and biscuits. I relaxed, became restored and it remains one of my top ten tea times.
More of an armchair traveler than one who leaves town? Check for French patisseries or elegant bakeries that offer international desserts and tea. All the pleasures of Paris and no jet lag!
For the more adventurous palate, visit ethnic areas like a Japantown, Koreatown, Little India or Chinatown where you'll discover the delicacies of that culture plus their classic teas. Instead of heading to the Plaza Hotel in Manhattan, go to Mott Street in Chinatown and explore tea shops there. In Los Angeles, savor dim sum and tea in the downtown's Chinatown or venture a few blocks further to Japantown and enjoy sweet azuki bean cakes and a cup of genmaicha or head to mid-city and sample stellar green teas from Korea. Or, seek out ethnic markets; you just may find something you have never tasted before.
My local Armenian grocer provides not only teas favored by Russians and Armenians, they also sell a nearly endless collection of wrapped candies and a multi-shelf group of jams and preserves from conventional and exotic fruits that are pure nirvana.
TEA ON THE ROAD
The convenience of traveling by car in the US, of course, is that you can take along bulky items with no concern for check-in charges or electrical adapters or finding clean water no matter which of our magnificent 50 states you're exploring. Whether you're stopping off at a Motel 6, visiting one of the glorious state or national parks or visiting relatives and friends in their homes, a freshly-made cup of tea is just minutes away.
Here is our checklist for your next road trip by car:
* A sturdy good-sized cooler
* Tins or airtight bags of teas (loose leaf or teabags)
* Accessories: scoop or measuring spoon, strainer, measuring cup, mugs or cups
* Electric kettle
* Bottled spring waters, stored in a cooler to avoid over-heating
* Whole lemons or oranges or other fruit
* Biscuits, cookies or other "go with" items for tea
* Milk and sweeteners, if you use them
* Wide-mouth thermos to hold brewed tea whenever you opt to take a day trip to hike or walk for an extended period of time at a local park, museum or other tourist attraction
Because so many gas stations have convenience stores attached, you'll never be far away from bottled spring waters, milk or sweets and the gas station is still a great source of information for which local supermarket to visit for a more extensive choice of "go with" items.
Another special tea memory is visiting a friend in his hand-built home atop a mountain with the serenity of genuine quiet, a splurge of stars in the sky, home-made chapatis and a satisfying cup of tea. Simple, perfect.
WHEN SPACE IS A PREMIUM
When you travel by airplane, and space in the luggage is limited, you can still probably find some space for your teas. Some dedicated tea lovers will make room for an electric tea kettle over a second pair of shoes! If boiled water is important to your tea drinking, remember that access to boiled water is readily available in most motels or hotels either via the standard coffee brewing machine or through room service. To use the coffee brewing machine, add spring water to the machine and let the heated water fill the carafe. Use the carafe to brew your tea.
Teapots are bulky too, so consider only bring a mug or cup or purchase a mug or cup as both a souvenir of your travels and a vessel for your tea. When you only have room for tea and a mug, you can still have your tea. All you really need is some local bottled spring water and time. Put a good pinch of tea in your souvenir mug, pour on some bottled spring water and allow to steep 10-20 minutes. Drink up! This cold brewing method will give a very smooth taste and the leaves will sink to the bottom of the mug. Or, buy or bring a glass measuring cup to brew the tea in, and a strainer. When the tea is ready, simply pour the tea through the strainer into the mug and you're ready! And, yes, teabags are infinitely easier and more convenient, so when space is critical, teabags are the perfect solution. (NOTE: to protect porcelain mugs or glass cups, wrap them in your underwear to protect them and, if size permits, stick them in a shoe or purse for even more protection.)
'TAKE' THE WATERS
Another wonderful opportunity in traveling is to sample the variety of bottled spring waters you can discover from Poland Springs in the northeast, Calistoga in California, and all the many imports from Armenia, France, Canada, New Zealand, Fiji, and other sources. This is a fun way to taste your teas with different waters. When in New York, forget the bottled water and turn on the tap; the city claims to have the best tasting tap water in the country so give it a try.
BON VOYAGE!
Whether it's by conventional train, car, bus or airplane — -or in your own hometown — -happy travels and the pleasure of a great cup of tea.