Enjoyment
Fall Into Chai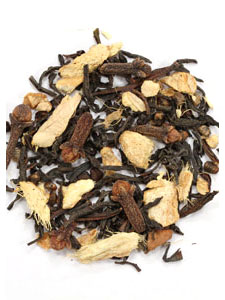 Here in the Northeast, the nights are starting to cool, making it possible to sleep with windows thrown open instead of air conditioning. To me, this signals that fall is on its way. I'm eagerly waiting for the first chilly weekend where I can throw on a sweater and curl up with a cup of tea - especially chai.
Chai simply radiates the sensations of autumn, with its warming spices and hearty black tea. To be proper, it's masala chai we're talking about here -"chai" is simply the word for tea in parts of Asia, though Westerners have co-opted it to stand in for the fragrant spicy blend known as masala chai. But the iced soy chai lattes you see in chain coffee shops have nothing on the real thing!
Origins of Chai
Tea (as in leaves from Camellia sinensis) was not commonly consumed in many parts of India until the early 20th century, encouraged by the British interests in the country. Chai wallahs began serving tea on the go, with milk and sugar in the fashion of the English teatime. To save on the amount of tea used, purveyors began to add traditional Indian spices to the mix, along with additional milk and sugar. Today, most masala chai blends are some variation of cardamom, cinnamon, cloves, ginger, and sometimes pepper. The spices used in masala chai derive from Ayurveda, and are believed to have regenerative or cleansing properties. A masala chai sans the black tea leaves has existed for thousands of years, according to legend.
Today you'll find chai everywhere, from supermarkets to Starbucks. You can purchase chai concentrates for home use, chai teabags, or get an ever-popular chai latte at your local coffee house. However, pre-made chai syrups often lose the deep flavors of the spices in the blend. It's really not difficult to make your own chai at home, whether you use your own spices, or buy a loose tea chai blend, like Adagio's masala chai.
If you're using a loose tea blend for convenience sake, you can simmer half water, half milk of your choice with 2 teaspoons of the tea & spices for every 8 oz of liquid. After bringing it to a full boil, simmer it for five minutes to get a rich, bold flavor. You can add sweetener to taste while simmering to make sure it dissolves fully - sugar or honey both work well with masala chai.
With the popularity of masala chai growing in the U.S., many companies have put out unique variations on the traditional recipe, changing up the base tea and spices. Teas (herbal and traditional) from rooibos to mate to white tea are used as the base, producing flavors as varied as the number of masala chai recipes in India. Adagio offers several variations on chai, including our popular rooibos vanilla chai for those avoiding caffeine.
If you've never tried chai, fall is the best season to appreciate its depth of flavor. It can be bold and sweet, spicy (if you like!) or mellow, depending on the blend and preparation. A warm cup of masala chai is a great treat for autumn events like hayrides, pumpkin carving and leaf peeping, so brew it up and take some along! If its popularity in India and the U.S. is any indication, you'll fall for chai too!