Enjoyment
What's Your Narra-tea-ve?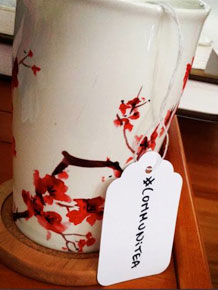 Manhattan had no idea it was a Monday. Sunshine sprawled through the city like hipsters at another Occupy movement.
I ducked out of the overzealous sun and into Midtown Comics. It was cozy and all too convenient, just an avenue away from Grand Central Terminal.
A guy at the counter greeted, "How are you?" His friendly face was like finding a Golden Ticket, while white- and blue-collared Oompa Loompas jostled against the looming clock outside.
"Doing great," I said.
The Midtown guy, however — not so great. A little under the weather, he admitted.
Snooty Tea Person Mode: Ac-tea-vated.
"Have you tried drinking tea?"
He lifted a mug of Apple Cinnamon. His coworker muttered that it tasted like an over-flavored pastry.
And then it was on like Donkey Kong.
Flavored versus unflavored; Adagio creations; local 'pot spots; virtuous jasmine greens, and mysterious, "organic" herbage. We traded recs of, "Oh, you gotta try this one..."
Most of the world's population drinks tea, but why and how depends on who's at the other end of the cup. At Midtown, talking tea fell into Real Person Things like work and art — all ins-tea-gated by the mug sitting quietly on the register.
This is what the #Communitea Project is about.
I had originally designed the project as a film documentary, a cross-country adventure of people and tea. But the more I researched, hearing the stories of other bud-dies and sip-lings, it became too much for one media platform.
Hence, the #Communitea Project. Rather than a traditional documentary, we tell our own narra-tea-ve, using the #Communitea hashtag and Facebook page to contribute stories, pictures, videos, words — any form of sip-'sperience.
What was your first cup of tea?
What was your last cup of tea?
What was the most godawful cup of tea you ever had?
What about the best one?
Share it with the #Communitea.
Cheers.