Health & Beauty
Stock Up on Teas & Tisanes for Sinus Season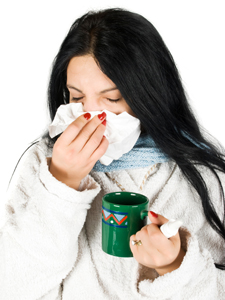 It's such a treat to see the first flowers of spring, however, for allergy sufferers or those sensitive to sinus congestion, spring is one reason to take to the bed!
We've created a whole series of recipes using either tea or herbal infusions to help you get through any spring or other season where temperature, flora, dander, dust or other allergens are prevalent.
Instead of medicinal histamines, you might want to consider the natural teas' ability to act as histamines to calm allergic reactions, ease symptoms and make breathing easier and deeper. Here are some ideas:
Rooibos, whether plain or flavored, contains the same powerful flavonoids and bioflavonoids as true tea yet none of the stimulants, making it an ideal beverage for chronic allergy sufferers. Scientists believe that these flavonoids act to block and/or reduce allergy-causing histamines that bring on stuffy nose, sneezing and the general malaise that allergy sufferers endure.
Peppermint teas have long been used for aiding digestion, but they're even more powerful in relieving the symptoms of stuffed noses and irritated mucous membranes that cold, flu and sinus patients suffer from. Try a little locally-produced honey in a cup of hot tea for a double whammy of benefits.
Another way to use tea to help with allergy symptoms is not to drink it, but to inhale it in a bowl of steam. Brew a pot of peppermint tea and pour it into a large bowl. Taking a clean tea towel, cover your head as you lean your face over the steaming bowl of tea. The steam, and the menthol in peppermint, combine to help open up your nasal passages, thin out the mucous, and help you flush it out of your nose so you can breathe easier and with less discomfort. A tea with eucalyptus oil in it will also help.
If you have any tea too stale to drink, add a little peppermint oil or eucalyptus oil (2-3 drops max) into a pot of boiling water, pour over the tea, and strain into a bowl. Cover your head with a towel and lean into the steaming bowl and inhale. Five to 10 minutes will have you feeling stronger and breathing better. Fresh or dried peppermint works alone or as a supplement to any tea. Avoid if you suffer from acid reflux.
Many other herbs, like lemon grass, used alone or with tea, are great for either a brewed cup of tea or a steam recipe to help. Consider lemon, orange or grapefruit for their high antioxidants and high levels of vitamin C to improve the immune system; 1/2 inch slices of fresh ginger help eradicate coughs, and rose hips reduce histamine levels. While not as readily available, licorice root has anti-allergy and anti-inflammatory impact on irritated respiratory passages and nettle calms allergic rhinitis. Any herbal store can provide you with these popular organic herbs to treat your sinus-related symptoms.
Avoid teas and herbs which have been treated with pesticides that can aggravate allergies and sinus sensitivity, and avoid ragweed and chamomile products which are difficult for many allergy sufferers.
To make an herbal tea, measure 2 teaspoons of dried leaves or 1/4 cup of fresh leaves with 1 cup of boiling water. Steep for 5 to 10 minutes. Strain. If you need a sweetener, only use locally-produced honey.