Enjoyment
Diary of a Tea Snob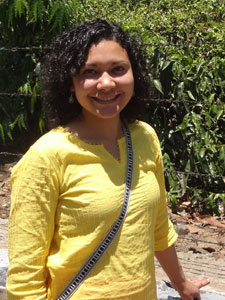 I press down on the hot water button in the nearly empty office kitchen to get a quick fix before my next meeting when I hear my name being called.
"Epiphany, is this any good?" a coworker asks, holding up a box of tea that bears a brand name I have never seen before. I'm flattered.
You see, I've sort of developed a reputation. In the morning I leave home double fisting my daily 32 ounces: a thermos of hot tea in one hand and a bottle of iced tea in the other. At any given time of day, I can be seen loading spoonfuls of fragrant loose tea into a hand painted ceramic mug with a built-in infuser. I am constantly on the lookout for new places to buy quality loose tea and I make it my personal mission to wean my friends off of tea bags. At home I stock more than 24 varieties, so I never travel without my own personal stash.
I was starting to think I'd never come across anyone who would match, let alone rival, my fascination with tea. That is, until a friend passed along Bruce Schoenfeld's personal essay from Travel and Leisure magazine. Schoenfeld recalls his first encounter with a rare oolong tea that inspired him to fly to China and meet the farmer that produced it.
Moments after reading the piece I decided that I too, wanted to travel the world and drink tea. But where would I start? Lucky for me, the answer basically fell into my lap when I remembered that Stephanie, a good friend of mine from college, would be working in India for the next two years.
It was perfect. I had a two-week break coming up, I already knew someone in India, and I had a bunch of student loans I'd taken out to help pay for my snazzy graduate journalism degree. This would technically be an educational expense, right?
Stephanie and I spent 12 days exploring her new hometown of Madurai, in the southern state of Tamil Nadu, before heading north to Delhi, Agra and Jaipur. One of the first things I noticed was that tea was everywhere.
Post-tour tea tasting at Connemara
Not only did we see it on every restaurant menu, but we also saw it being prepared in large pots on the side of the road. In the train stations, men walked up and down the platforms with giant kettles calling out, "Chai, chai, chai." Just 10 rupees, or the equivalent of about $0.16 USD, would buy you a tiny 2-ounce cup of the sweet, milky concoction.
I was thrilled to be surrounded by tea everywhere I went, but I was not at all prepared for how heavy-handed Indians are with sugar - I'd say the ratio of tea to sugar was about fifty-fifty. This is probably a gross exaggeration, but as a purist who generally does not add any sugar to my tea, this was one of many Indian traditions that would take a lot of getting used to.
While touring old Delhi, we visited an adorable loose tea shop called Aap Ki Pasand. Inside, we found a regal-looking photo of the shop's resident tea master, but unfortunately did not get to meet him. I did, however, stock up on chai, Darjeeling and Assam teas.
We made our way back south a couple of days before the end of my trip. When Stephanie had to go back to work, I hired a driver to take me to Thekkady, a hill station on the border of Tamil Nadu and Kerala. My eyes widened as we drove past entire hillsides packed with large, wavy patches of waist-high tea bushes.
I had traveled three hours one-way to spend just one hour touring the Connemara Tea plantation and factory. I wanted to see mountains of bright green tea leaves transform into the dried black tea I have become so accustomed to, and I was not disappointed.
To my delight, I got to see every step of the process with my own eyes - from withering the leaves on huge wood and metal beds all the way to fermentation and drying in giant steel drums. To top it all off, we ended our tour with a tea tasting.
During the three-hour trip back to Madurai, I couldn't help but smile and think about where I will go next.