Drinks & Eats
Fall CockTEAls: Pumpkin Not Included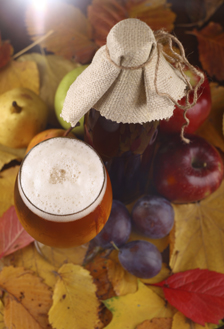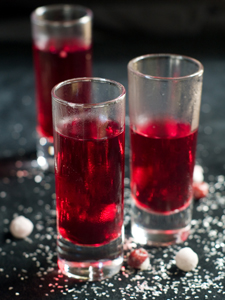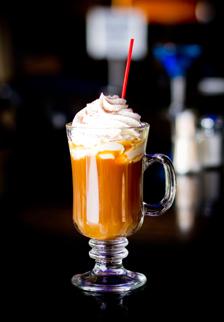 As soon as the leaves threaten to turn red and gold, cafes put forth all the incarnations of pumpkin, chai, pumpchai, chaikin —
Enough.
Bring back your tastebuds from their flavoring-induced coma with these alcohol-infused seasonal recipes:
Butterbrew
A rich, buttery concoction that tastes best with a gentle nuke in the microwave after preparation, allowing the warm flavors to shake hands and bond in the cup. It has nothing whatsoever to do with another warm, buttery concoction in a popular childrens' series about a boy wizard, because children shouldn't be partaking in this sort of beverage. (Children-at-heart, however — bottoms up.)

Ingredients:
Cream soda
Butterscotch schnapps
Step 1: Prepare the tea, ideally in a pot or other spacious infuser. You'll need the wiggle room, since you'll be using 3 times as much leaf as you normally would for a cup. Tea, being the delicate bird it is, needs extra coaxing to bring flavor into alcoholic drinks.
Step 2: Fill a tall glass halfway with tea. Extra points if you use a beer stein.
Step 3: Fill the remaining space with cream soda, adding the schnapps to taste. Please be careful with the schnapps, as you don't want to overpower the oolong. The ratio should be about 3:1:1, more or less depending on your sweet tooth and desire for butter.
Step 4: Cheers.
Grin and Cranbear It
A takeoff on the classic cranberry + vodka. To be sipped during family gatherings, every time someone asks, "So, what is it you do, exactly?" Sip again when they ask, "Do you get paid for this?"

Ingredients:
Berry Blast, or other red berry/hibiscus-based tea
Ice
Cranberry vodka
Step 1: Prepare the tea. Since it's a fruit tea, you don't need to go super hard on the concentration, so double the usual tea is fine. Any more, and don't say I didn't warn you — that blend comes out tart.
Step 2: Fill a glass halfway with ice.
Step 3: Pour the tea over the ice, stopping when the glass is about ¾ full with tea and half-melted ice cubes.
Step 4: Add the cranberry vodka. Be considerate of your tastebuds and stress level.
Step 5: Cheers. You'll need it.
Carrot Cake
Throw out your calorie counters — it's just one big frothy pastry in a mug. Your trainer will forgive you in the morning.

Ingredients:
Ice
Kahlua
Vanilla rum
Whipped cream
Step 1: Prepare the tea. Rooibos has a thin body on its own, so here you want extra concentration. Do at least 4 times the amount you would normally — 6 if you're brave.
Step 2: Fill a mug ¼ of the way with ice.
Step 3: Pour the tea over the ice, stopping when the glass is about ¾ full. Allow the ice cubes to finish melting into the drink.
Step 4: Add one shot each of kahlua and vanilla rum.
Step 5: Top with whipped cream, like you're a bona fide barista or something. At this point, you may be too tipsy to care.
Step 6: Too late, you've already gone for it. Cheers.