Tea in Art
Tea in Art: Artist Mithun Jayaram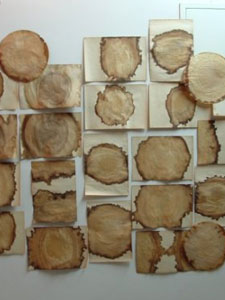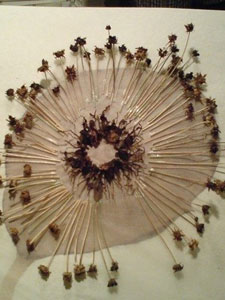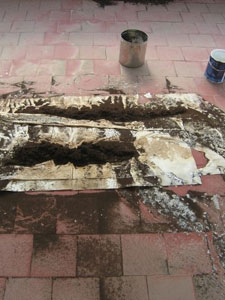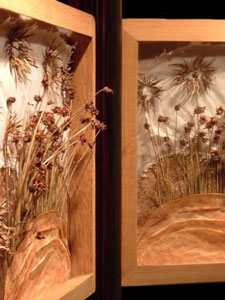 Mithun Jayaram always considered himself a coffee kind of person. After his vast travels landed him back in India, a local establishment intrigued him, a place he would pass on route to French classes. The place was a tearoom, Infinitea, and there he discovered the vast world of beautiful loose-leaf teas from all over the world.
"I had never been to a place that dealt with vast subtleties of the tongue, throat, and nostrils, "Jayaram states when experiencing fine tea before. "I've never liked tea prior...I've always had the impression that tea was to be served as a standard milk and ultra sweet drink."
He took to becoming a tea drinker rather quickly (white tea is his favorite) while visiting Infinitea before and after his classes, realizing that tea was indeed full of flavor sans sugar and milk. Pot after pot was drunk and as he became more aware of the different flavor nuances that each particular tea exuded; his curiosity also grew concerning the actual tealeaf. As an artist, this feeling wasn't anything new, and these used tea leaves at the bottom of his teapot sparked inspiration and creativity.
Mithun Jayaram was born in Kerala, India and raised in Dubai, UAE. His initial interest during high school was that to the science of genetics and didn't expect himself to be interested in art. He fell into art unexpectedly; having gone the science route, he wasn't doing too well in chemistry and at the same time an adviser chose Mithun to represent his class in an art competition. A drawing of a dinosaur being pushed over a cliff by a bulldozer won him first place in the competition and the head judge encouraged him to pursue art.
After his initial education was completed, he left Dubai for the likes of LaSalle College of Arts in Singapore pursuing a bachelor's degree in fine arts. He finished his studied in 2004 after graduating with honors and was awarded a fellowship to study and do research in Romania. From there he continued on to work with award winning artists in Europe and Singapore on group exhibitions. Life brought him back to the country of his birth, this time in Bangalore, where he is currently producing art and studying French.
Mithun began to take out the leaves after drinking his tea and placing them in his notebook. From there he began to take note to how they dried and what colors, forms, textures, and traces they would leave behind as they soon became refuse. He would smell the leaves when wet and dry. Mithun states a very personal process goes into exploring the tealeaves, as well as anything else that is of interest to him.
Mithun's art uses all sorts of other material that we may deem as refuse, but he sees as providing many possibilities. This includes cotton, matchsticks, pencil shavings, and tissues. He is very much influenced by the environment around him and observes what he uses and throws away, fascinated by these items' provisional existences: "I tend to select material that I recognize as a by product/product of my routine". Along with that Jayaram likes to use unconventional materials to make 'temporary' pieces , displaying them in unconventional spaces not usually considered as a formal art space. This use of alternative material and viewing spaces for his art provides a type of connection for Jayaram; a type of meditative state and his art becoming products of this particular sense of being. Along with his note taking on the physical form the tea leaves take upon drying, he likes to record the effect on tea on his body versus when he consumes coffee, understand the way tea affects him, and his well-being.
The Lost Tea Leaves Series and the use of tealeaves in his art hold a special place among his various projects. In a sense, it is a very kind of 'Green' living accord that Jayaram takes from using the tea leaves: it is the first material that is true refuse from someone else, and not from his immediate use. His intensive record keeping on the way that the tealeaves dried and developed caught the eyes of the owners of Infinitea, Gaurav Saria and Deeksha Saria who became his unofficial mentors on the ins and outs of gourmet tea. The husband and wife tea-team educated Mithun about tea history and culture and were more than happy to provide their 'tea trash' to Mithun, which he collects every couple of days or so. He happily separates the leaves of use to him, then he dries them using two different methods - under the sun or by a fan inside his home, each producing different results. Lumps of tealeaves resemble charred pits on the patio of his home where he dries the tea leaves. Mithun also observes the way the weather may affect the dried tea leaves and how the effect of time serves the tea leaves. In a true circle-of-life kind of way, the tea leaves that he doesn't uses goes into his father's garden for fertilizer.
"The final piece is not that important to me, the process is though. I find that the process of making something reveals a fertile ground of possibilities from which more works can branch," notes Jayaram. This series includes both photographs of the different ways the tea leaves dry as well as the art pieces created by using the leaves.
In May, Mithun was able to put some of his work on display where it all began, at Infinitea for a small show featuring several finished pieces. Mithun hopes to develop his love of tea further, as well as go visit a tea plantation in the future to fully understand the process of plant to cup. He also plans on continuing his extensive records of tea's composition and decomposition as an on-going project. Mithun Jayaram is able to pull inspiration from anywhere- movies to mundane activities and frequently posts photos and such on Facebook to share with friends, a bit of an online exhibition.
At least with this latest material of tea leaves will keep him drinking and inspired, "I still enjoy coffee but not as much as I do white tea. The sensations I get from them are quite extraordinary at times."