Profile
Traveling Teacup: Dushanbe Tea House Boulder, CO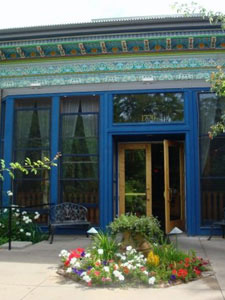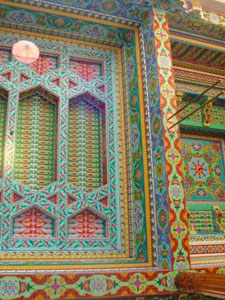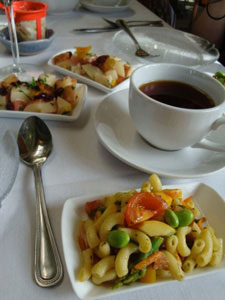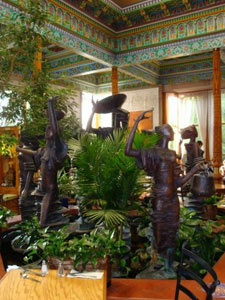 [TEAROOM ID=120]

For my dear friend's birthday, I decided to go fly out to Boulder, Colorado where she is currently enrolled in Naropa University as an art therapy graduate student. We were equally excited for my visit; I needed a break from the East Coast for a bit and I'm always down for exploring a new city and she wanted to introduce her buddy to all her friends and her new life. And she needed a break and a breath of fresh air from New Jersey (if fresh air from NJ is possible?). Of course, I planned out places that I was interested in dining at, sightseeing options, and places to shop and drink. And of course, I needed to scope out one particular landmark: Dushanbe Tea House.

Upon meeting her friendly coterie, we shared the basics. When I revealed that I worked at a tea company, I was met with some oooh's and ahhh's (ok, maybe just a few). I insisted it wasn't a glamorous job, but it was fun and I knew my fair share of tea knowledge.

I was immediately interrupted by their outgoing suggestions of what to do while in Boulder. They all insisted that I needed to go to Dushanbe Tea House. They raved about how tasty the food was and how beautiful the tearoom was.

Ladies, I have it covered, I thought to myself. Reservations were made and I was going to treat my friend to her first ever Afternoon Tea. She had not yet been able to visit the teahouse due to a grad student's budget and the fact that she was too busy to plan anything. A relaxing late afternoon tea was just what she needed.

And I found that I needed it too. While friend was off in classes, I was taking my days exploring the city's finest eateries and shops. At an altitude of 5430 feet, the city's air is crisp but poor me wasn't used to it. One gets tired easily at higher altitudes if you are not used to it, so the vivacious tourist suffered much along with a touch of jet lag and the constant need for hydration (you get so dry!).

We arrived at Dushanbe just in time for our reservation. A bevy of flowers and patio tables sat underneath a canvas canopy to one side of the tearoom; the outdoor area. Beautiful roses line the path into the tearoom. Once you step inside, your breath is immediately taken away.

Dushanbe, Tajikistan is Boulder, Colorado's sister city, located in the Western Himalayan mountains. This special relationship was established in 1987 when the mayor of Dushanbe visited Boulder. To mark this relationship a gift of a teahouse was presented in 1990. It took three years and a score of artisans headed by architect Lado Shanidze to hand paint the tearoom walls and carve the wooden posts that create this beauty of a space. After the pieces of the teahouse were completed, they were shipped carefully to Boulder and put back together. The wood carvers and painters all have left their mark somewhere in the tea house- with their names either carved or painted on various spots inside the tearoom.

The tearoom is a spacious area, almost airy with its high ceilings and long narrow windows. The sun was shining and filled the tearoom with its warmth. We were seated at a decorated table next to one of the exquisite posts that help bolster the tearoom. Conversations from other groups in the tearoom, either for afternoon tea or an early dinner, pitter pattered throughout the space, interrupted slightly by the trickling waters of the Fountain of the Seven Beauties. This fountain sits in the middle of the tearoom and is flanked by iron figurines. Slowly, almost like doing yoga poses and breathing exercises, you are eased into a sense of relaxation and anticipation.

We couldn't help but stare in awe at our surroundings. The bright colors of the hand painted walls surrounded us with such a fun and jovial feeling. My friend really appreciated it; it was almost like color therapy. We were really excited about our afternoon tea and were presented with our tea menu by our waiter. We chose a pot each, I decided on the Boulder Breakfast, my friend the Silver Dragon green tea with intentions to share. Watching our teapots carefully, we removed our infused tealeaves from our teapots into the provided saucers and enjoyed the first sip of tea.

Our afternoon tea began shortly after we were seated. Once our tea was brought out, we were served numerous courses. The first was a simple green salad with soy vinaigrette and raspberries, followed with miniature platters of a pasta salad topped with andouille sausage and edamame and a potato salad with dried cranberries. The portions were darling and we ate them up. My friend was a bit wary that an afternoon tea filled with such petit portions wouldn't serve to fill us up; I assured her it would.

Shortly after she expressed her concern, our waiter brought out the piece de resistance: our three-tiered tray filled with such lovelies to eat up. On the bottom plate we had lemon zest scones and artichoke puff-pastry purses. The middle held traditional cucumber sandwiches and a generous bunch of champagne grapes. The top tier bore our desserts: vanilla and chocolate teacakes, strawberry filled crispy wonton dumplings, and goat-cheese stuffed dates. Needless to say, after devouring our goodies we were pleasantly plumper and quite full! We lolled over the remaining tea we had in our teapots and discussed the meal we just had. My friend was pleased as punch that she was able to finally enjoy a proper afternoon tea, in one of the most beautiful tearooms in America.

Reservations are necessary for afternoon tea. Please also join Dushanbe for wonderful cuisine throughout the day. They offer breakfast, brunch, lunch, and dinner menus. Their tea bar also features a vast selection of teas, made to order if you want to take it to go. They also feature an extensive list of tea-cocktails, fine wines, beers, and spirits. It is definitely a must for the foodie visiting Boulder. It is also conveniently located next door to the Boulder Contemporary Art Museum and a short walk from Boulder Public Library and the Pearl Street mall/Downtown Boulder area.