History
The 180+ Year Evolution of the Teabag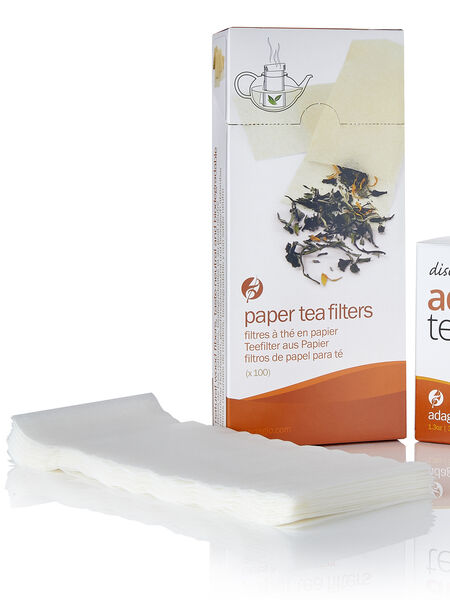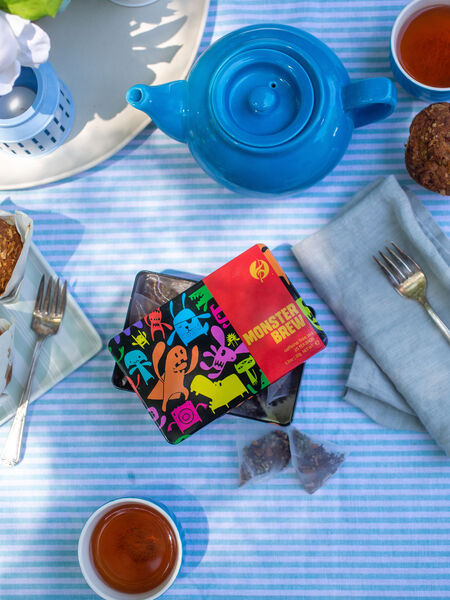 The history of the teabag dates to the 19th century and to enthusiastic opponents of "the drink" who organized the Temperance Society. Tea was the chosen beverage for their meetings aka "tea parties," and they were so well attended that hosts were tasked to prepare enough tea for the hundreds who attended. That led to what some believe is the first teabag.
It was described in the July 1836 edition of "Preston Temperance Advocate" magazine as a large tea tin, "a yard square and a foot deep, each one containing as much as will serve 250 persons. The tea is tied loosely in bags, about ¼ lb in each. At the top there is an aperture into which the boiling water is conveyed by a pipe from the boiler, and at one corner there is a tap, from which the tea when brewed is drawn out."
The huge teabag contraption brewed tea "sweetened or milked or both" and well received: "Capital tea was made at the last festival by this plan," one member wrote.
MUSLIN FOR THE MASSES
U.S. Patent No. 234,556
In 1880, Thomas Fitzgerald of Boston designed a porous bag of muslin secured to a float. The bag could be removed to insert tea and the attached elongated was used to carry it from kitchen to table.
FILLABLE POUCHES VS PRE-FILLED TEABAGS
About 40 years later, in 1880, Thomas Fitzgerald of Boston created a teabag that was less brewing vessel but only slightly. He designed a porous bag of muslin secured to a float. The bag could be removed to be filled with tea and an elongated handle was attached to the float to carry it from kitchen to table. This started an explosion of home-made muslin bag variations for personal use. Today, they're called tea socks, made of cotton or muslin, and are infinitely reusable.
For those who prefer one-use teabags, disposable ones are made from paper or other wood and hemp fibers. Usually rectangular in shape, they have a fold-over flap on top which is opened to put leaves into the bag. It closes over for fuss-free brewing. Using fingers or tongs on the flap, one can lift the bag out of the cup when the liquor is infused and dispose it. These bags allow a variety of quantities in the sac, so one can brew by the cup or the pot with as much or as little tea as desired instead of the pre-measured amount in commercial teabags.
Edward Gillingham of Chelsea, Massachusetts created a "tea-strainer" (U.S. Patent # 489,468) in 1893 that was a bag with a U-shaped wire that acted as a handle to dunk the bag in and out of a cup. It was small enough to carry in a pocket or purse so that you could brew tea yourself wherever you went.
Two women got into the invention game in 1903 with the "Tea Leaf Holder," that had a pocket of open mesh fabric with one open end for the tea leaves to be added and a flap closed to secure the leaves with a piece of wire. Roberta C. Lawson and Mary McLaren of Milwaukee, Wisconsin secured U.S. Patent No 723,287 for their gadget but the one-cup teabag never became commercially available.
SILK AND COTTON GAUZE
At the St. Louis World Expo in 1904, Tom Sullivan did the dazzle when he introduced his hand-sewn silk bags to the throngs of attendees. Sullivan's intention was to make an easier, neater way to take home purchases, however, customers didn't think of it as a container but as a neater way to brew tea in teapots. Some records show that Sullivan introduced his silk sachet at his tea shop in 1908, and others say he never existed. We include it anyway as it's such an interesting story of marketing ingenuity. And, we do know for sure that silk sachets became common and spurred numerous versions in various materials including sachets made of cotton gauze and paper, both cheap and widely available resources, and easily disposable.
One innovation was the "teabombe," a reticule of cotton-gauze fabric used to hold tea leaves. Produced by the German tea company, Teekanne, the bags were sewed by hand, filled with both tea leaves and sugar, and tied with a piece of string. Despite the intensive labor, they were widely distributed on the front line to German soldiers during World War I. Alas, the quality of the tea led many soldiers to think the brew was "brown colored water." The public also didn't like the "taste" of the fabric in the tea. In 1929, Teekanne's engineer, Adolf Rambold, solved the taste issue of fabric by using bags of paper, and more importantly, he invented world's first teabag-packing machine.
ADDING A TAG
The 1920s were particularly lively with inventions for teabags. Sir Thomas Lipton, surely the finest advertising proponent of his era, fulfilled two goals with one clever idea: he added a tag to his paper teabags, then had his company name and tea brewing instructions printed on the tag. No guessing how to brew the tea and it was a continual reminder of what brand to order next time you shopped.
ENTER THE ABACA PLANT
Paper teabags, like previous fabric ones, often tainted the tea until Fay Osborn applied his MIT engineering education to the Dexter Corporation's challenge to create a stronger, better paper. The paper chemist's answer was a long fiber material based on yoshino, the hand-made paper created by Japanese artisans. Osborn's innovation eliminated the glitches found in hand-made papers and his process made the material consistent, a must when producing in great quantities.
Osborn's 1922 automated continuous process and material were officially introduced in the 1930s transforming the speed and quality of teabag production in the U.S. It also reduced costs because Osborn switched from wood pulp to musa textilis from the abaca plant, a banana relative native to the Philippines and Ecuador. Production was interrupted by World War II and resumed in the 1950s.
THE DOUBLE BAG
Back in Germany, in 1935, Rambold was the first to design a way to manufacture a teabag combined with its own paper wrapper, and in 1948, he designed the revolutionary double-chamber teabag, made from a single piece of paper, and without glue or heat sealing. These double-chamber bags allowed water to circulate fully around the tea and infuse them completely. Rambold also designed a viable teabag-packing machine to produce these bags, a significant engineering marvel that led to his machines sold throughout the world. He kept refining his invention up until his last patent application, filed when he was 87-years-old.
Sir Thomas Lipton "adopted" the double-chamber teabag in 1952 without crediting the German inventor. Lipton's "flow-thru" teabag, thanks to his extensive advertising, captured the American public's attention and is still available.
The reticule-shaped bag of cotton gauze in the foreground, a "teebombe," was used by German soldiers on the front lines during World War I. It was filled with both sugar and tea to "lift the spirits" of the men. Teebomben may reference its shape to early hand grenades.
Rambold's revolutionary idea of the double-pouch teabag to release more flavor from the tea leaves.
Rambold's "Teefix" teabag, from 1949, is included in the New York Museum of Modern Art, MOMA, along with other classic designs. Note the double edges of pouches at the bottom of the bag.
That was pretty much it for teabag design until the late 1990s. By this time, Indian and Chinese markets for tea had opened up considerably, access to incredibly fine estate teas was made possible, and consumers were ready to ditch the generally poor quality of fannings and dust prevalent in teabags. Tea vendors heard the call to put full leaves in tea sachets but there was one problem: full leaves expanding when wet became too big for traditional paper bags. The British tea firm, Brooke Bond, solved that challenge by designing the tetrahedral-shaped teabag for its PG Tips brand. Instead of paper, they used the modern version of Sullivan's original silk sachet, man-made nylon, which allowed up to 50% more room for the "agony of the leaves" to release their flavor. Commonly called the pyramid bag, it was perfect for full-leaf tea and copied world-wide.
What follows has been a variety of innovative fibers for the pyramid bags, especially PLA (polylactic acid) a woven yarn made from the fermentation of sugar, milled from either GMO or non-GMO corn sources. Soilon™, a bio-based, non-petroleum-based biodegradable PLA from plants, developed by Yamanaka Industry of Japan, is a silky food-grade plastic used in many teabags. Finally, the one-serving pod created originally for Keurig coffee has been adjusted for tea making.
As for the future? Who know? Maybe you will design the next wonder fabric or bag shape for an entirely new teabag. Let us know first, okay?