Enjoyment
Baking with Tea: Roast Nuts and Shortbread Cookies
Many Delights for the Palate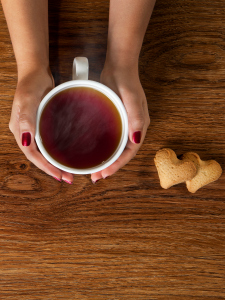 Baking with tea as an ingredient offers the adventurer in us a detour from the ordinary or expected. Matcha, the powdered green tea of Japan, is a perfect ingredient for dusting cookies by itself or with sugar, or in the dough (and, yes, it will color it green!). Tea liquor, especially hearty blacks or fruited blacks, make an excellent addition to milk items like ricotta cheese, milk, or creams used in desserts or toppings. Lighter teas, like Darjeelings or young oolong,s add a little oomph to fruits in pies, compotes, or tarts, or crème brulees. Use a masala tea concentrate in scones or tea breads, crush tea into any liquid for an additional punch to any baked items, and heavy blacks, like Assam, take wonderfully to chocolate frostings, cakes, or fudge, or brownies. The combinations are endless. Think of teas as a spice, or a form of umami, to amp up the other flavors or and spices used in your desserts. For an out-of-the-box idea, consider these chai-flavored roasted nuts:
CHAI FLAVORED ROASTED NUTS
This is a stretch for "baking with tea" but so-o-o delicious we had to share. Use just walnuts, or your own favorite nut. For , however, for more complexity in taste and texture, use at least three nut varieties such as pistachios, almonds, hazelnuts, peanuts, pecans and/or walnuts. Raw nuts are available everywhere and are essential to the recipe. Do NOT use pre-roasted nuts, because a second roasting will make the nuts bitter. Eat these by themselves, or with your favorite cocktails, or add to the tea table menu. They can also be a piquant addition over rice or other grains, "pretty up" frostings, and even add both crunch and heartiness to green salads. Their uses are as endless as your imagination. Share as a table favor or gift, packaged in pretty mesh, cellophane, or paper bags.
Ingredients:
3 Tablespoons each of maple syrup and coconut oil
1 teaspoon of salt
2 teaspoons loose-leaf masala chai or the contents of 2 tea bags
1 teaspoon chili flakes
¼ cup boiling water
NOTE: If maple syrup isn't available, use agave syrup or your favorite honey, although or a hearty one, like buckwheat, which adds a spectacular edge. Do NOT substitute the coconut oil.
Directions:
Preheat the oven to a low 320°F. Line a baking sheet with parchment paper and set aside.
In a large bowl, mix syrup, oil, salt, chai, chili flakes, and water together until smooth. Add the nuts and fold in well until all the nuts are thoroughly coated. Pour out the nut mixture onto the baking sheet and, using a rubber spatula, spread evenly so there is little or no overlapping.
Bake for 30 minutes, stirring every ten minutes to insure even roasting. When finished, the nuts should appear golden and dry.
Remove the sheet from the oven and allow to cool. To preserve, place in a glass jar, seal tightly, and store in a cool area. Do not refrigerate.
YIELD:10 to 15 small servings. Recipe easily doubles.
MATCHA SHORTBREAD COOKIES
A plethora of recipes for this cookie abound no doubt because they're easy to make and beautiful to view and, oh yes, it tastes lovely!
Ingredients:
7 Tablespoons unsalted butter, softened*
¼ teaspoon sea salt
6 Tablespoons confectioner's sugar
1 egg yolk
¾ cup flour
6 Tablespoons almond meal or finely-ground almonds (use a small processor or blender)
2 teaspoons matcha
2 Tablespoons coarse sugar like demerara or turbinado, available in most supermarkets in the baking section
Directions:
In a medium-sized bowl, cream together the butter, salt, and confectioner's sugar with a spatula. Add the egg yolk and mix it in thoroughly.
In a separate bowl, combine the flour, ground almonds, and matcha, and stir with a whisk to remove any lumps. Add the flour mixture to the first bowl and stir it in until the mixture comes together to form a ball. Be gentle, do not overwork the dough.
Roll the dough into a log with a circular section about 1 ½" wide. Cover with shrink wrap and place in the freezer to firm up, about 40 minutes or 2 hours in the refrigerator.
When ready to bake, preheat the oven to 360°F.
Line a baking sheet with parchment paper. Remove the dough from the freezer (or refrigerator) and unwrap.
Sprinkle the sugar on a plate and roll the log in it to coat on all sides, pressing it down a bit into the sugar as necessary to coat thoroughly. Using a sharp knife, cut the log into ¼" slices and arrange on the prepared baking sheet leaving some room between them as they will spread slightly.
Bake for 12 minutes, or until the cookies just begin to turn golden at the edges. Let rest for 5 minutes on the baking sheet, then transfer to a rack to cool completely. Store in a tightly-lidded jar until ready to serve. Recipe easily doubles. Adagio has a variety of flavored matchas with which you could experiment in these cookies, Peach Matcha Shortbread, anyone?
*If you can find semi-salted butter use that, but be sure to skip the sea salt.