Culture
Spring Cleaning for Tea Closets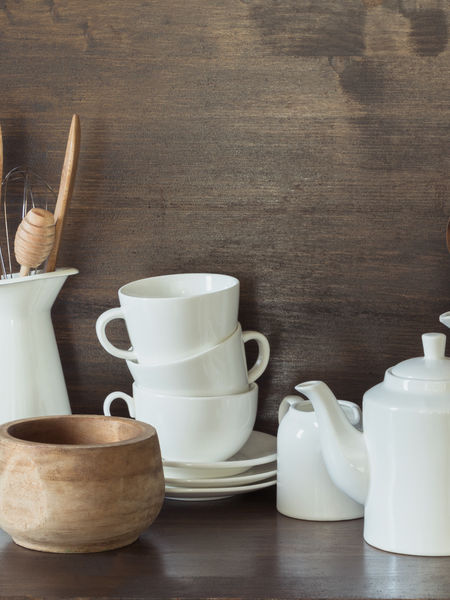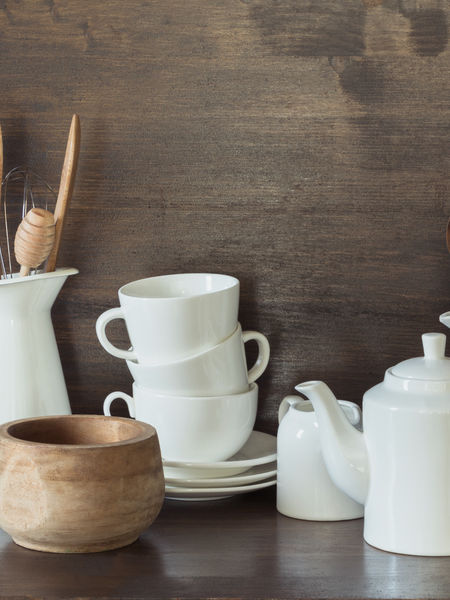 How to Clean, Recycle, Repurpose
Spring cleaning is a ritual that refreshes the home as it refreshes our spirit, and that goes for your tea paraphernalia and your tea supply too.
TEA SUPPLY
Having a wide variety of teas is not only a palate pleaser, it's a great way to provide you with just the right tea for the mood. The downside is that we might store 'em and forget 'em while we brew another favorite over and over again.
Go through your entire tea inventory. Bring out all your tea selections and open each tin or box. Do the teas smell fresh? Do the leaves look bright or dull? Have loose leaves crumbled to dust? While it is true these are still drinkable, they may not taste as lovely as your memory of them. Recycle them by scattering leaves around houseplants or your garden vegetables or plants, or put them into your compost.
Rethink your containers. Lightweight paper boxes are convenient, but they do not always protect teabags or loose leaf teas from temperature changes. Consider putting them into well-washed glass jars (canning jars are great, but recycled pasta sauce jars work well). Screw the lids on securely and put them in a dark cupboard. Not only will this keep the teas fresher longer, you'll be able to see at a glance what they are. Better yet, use tins or porcelain jars with tight-fitting lids. These provide added protection. Remember, the enemies of freshness in tea are light, aromas from other foodstuffs, and heat, so a cool dark cupboard is a must. Do not refrigerate! No jars? No worries. Adagio has you covered.
CLEANING TEA KETTLES
Whether you use bottled water or tap water, the minerals from water sources over time will leave a residue on the bottom of a kettle. The two best, safest cleansers are baking soda or citric acid powder, both available at any grocery store. Make a paste with a little water and about 1 tablespoon of the citric acid power or baking soda. Using a new, clean sponge, rub it over the bottom and throughout the interior of the kettle. This may take more than one application if the kettle is heavily stained. Rinse several times with hot water. Then, boil some water in the kettle at least two times, discarding the water each time. This insures that the salty or acidic character of these agents will not taint your tea-brewing water. NOTE: Stainless steel is the best metal for kettles whether they're stovetop or electric. Glass kettles can also benefit from this style of cleaning.
CLEANING TEAPOTS AND CUPS
If you use an Yixing (purple clay) pot, you know to use only one type of tea in it as the porous quality of the clay will eventually absorb the flavor of that tea. No cleaning is required except to rinse it out thoroughly after each use, and dry with a clean soft cloth.
For porcelain and glass tea cups and teapots, many users hesitate to clean the residue from tea as they believe it "seasons" the pot. In this, let your palate be your guide. However, we strongly suggest that you rinse the pots each time after use, and wipe dry. Citric acid or baking soda are excellent for cleaning heavily-stained teapots and cups. Do not use bleach, cleanser or soap because no matter how well you rinse, they can leave a residue that taints your next cup of tea. Teapot beyond the magic of citrus acid? Time to buy yourself a new one with temperature controls!
SORT YOUR TEACUP COLLECTION
We all have our favorite teacups, pots, and strainers we use frequently. But, what about those just gathering dust that are otherwise still beautiful and functional?
Share them with fellow tea lovers.
Give them to senior centers along with a box of teabags just for fun?
Use them as gifts for special occasions like Sweet Sixteen birthdays (or 61st birthdays!) or for guests at Bridal or Baby Showers.
Repurposing:
Now that you've cleaned and restocked your shelves of teacups and teapots you want to keep, what remains? A broken teacup? Mismatched saucers? Teapots with no lids? Here are a few ideas to repurpose them:
Re-use orphaned saucers to pretty up the counter or furniture top as:
"coasters" for indoor potted plants
furniture protectors for keys or change
hold sponges, hand soaps or bottles of dish soap
Re-use lid-less teapots:
as planters for your favorite fern or ivy
vases for fresh-cut flowers
as containers to toss in those rubber bands, paper clips or plastic bags
RECYCLE OR REPURPOSE WITH AN EYE FOR ART
Old teabag sachets, tea leaves, and even the tea tags on teabags are all part of the resurgence of handcrafts.
You can dye white or darken pastel cloth or clothing. Add tea to boiling water and steep for 10-20 minutes, then soak the material for ½ hour to 2 hours or longer to desired darkness. And, yes, it works with green and black teas and with dark colored tisanes.
Tea liquor is also something you can use to "age" a painting or "age" a too-white canvass prior to using it for acrylics or oils
Make greeting cards or collages using paper sachets; glue on crushed tea leaves for a 3D effect.
Save those broken pieces and glue them together for a quirky mosaic for a fountain, a tabletop, or a decorative new version of a plate.