Enjoyment
Green Rooibos Is Coming! Green Rooibos Is Coming!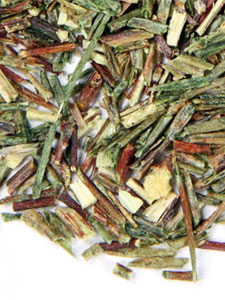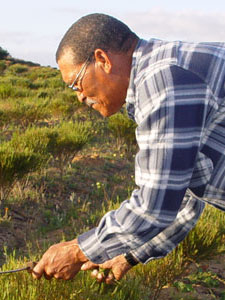 If you are even a casual tea drinker, odds are you have heard of Rooibos (pronounced roy-boss) tea. Over the past few years, Rooibos tea has been gaining in popularity as a unique and caffeine-free alternative to traditional teas. If you're a serious or adventurous tea drinker, you probably have first-hand experience drinking this rich, red tea. But, Serious/Adventurous Tea Drinker, did you know there is green Rooibos tea? Yeah, to be honest, neither did I. But there is! And it's coming soon to Adagio Teas!
What Is Rooibos?
There are a few significant differences between Rooibos tea and what the average consumer thinks of as tea. First, while called tea, Rooibos is actually an herbal infusion. The word tea refers to the beverage that is made from leaves of the plant Camellia sinensis. All forms of the "true" teas-black, green, white, and oolong-come from this plant. Rooibos tea, however, comes from Aspalathus linearis, which is bushy legume that produces needle-like leaves (unlike the furled leaves to which most tea drinkers are accustomed). Another big difference is that most varieties of true tea come from Asia, but Rooibos comes from South Africa. Also, unlike true tea, Rooibos is naturally caffeine-free.
Red vs Green
Most people who are familiar with Rooibos know it as a red tea (if you would like more info about red Rooibos, check out the Rooibos TeaMuse post from a few years back), thanks to its intense red color when brewed. Like the difference between the various types of true tea, the difference between green and red Rooibos lies in the processing: red Rooibos is fermented, green Rooibos is unfermented. While the details of green Rooibos processing are proprietary, the overall process is not. The leaves are picked in the early morning and immediately transported to a factory. They undergo special processing so that oxidation is avoided, and then are dried quickly at specific temperatures to prevent fermentation and retain the green color of the leaves (but green Rooibos brews up as a pinkish-yellow instead of the familiar Rooibos red). The green Rooibos then goes through a special cooling step before packing.
So what does it taste like? Unlike red Rooibos, which has a sweet, smooth, rich taste, green Rooibos tastes a bit like green tea. Of course, taste is subjective and everyone will have a slightly different take on the flavor. Some words to help describe that flavor? Malty, grassy, delicate, mild, and delicious.
Like true tea, Rooibos teas contain antioxidants and offer great health benefits. Research has found that red Rooibos tea contains high levels of antioxidants. More recent studies suggests that green Rooibos has even greater health benefits due to the higher amount of antioxidants in the brew: the fermentation process of red Rooibos inevitably leads to the loss of some antioxidants. This is also the case for true teas, and why green tea has a stronger reputation for being healthy and higher in antioxidants than black tea.
Welcome, Green!
While Adagio has offered both flavored and unflavored red Rooibos tea for many years, green Rooibos was not available. Fortunately, that is about to change. Not only will Adagio soon have green Rooibos tea, they will also offer 3 flavors: Green Rooibos Bonita, Green Rooibos Key West, and Green Rooibos Citron. Green Rooibos Bonita is a summer-fruit inspired blend of green Rooibos with peaches, strawberries, and citrus, Green Rooibos Key West is a combination of green Rooibos with passion fruit, mango, and a hint of tangy apricot, and Green Rooibos Citron is a mix of green Rooibos, lemon, and orange. The light and subtly sweet flavors of green Rooibos pairs well with fruit flavors, so each of these teas will surely be crisp and refreshing.
The new green Rooibos teas will be available this month, so hang in there. In the meantime, you'll just have to keep drinking red Rooibos.